Starting a diamond open access journal: Insights from Andrea Sangiacomo, editor-in-chief of the Journal of Spinoza Studies
| | |
| --- | --- |
| Date: | 06 February 2023 |
| Author: | Giulia Trentacosti |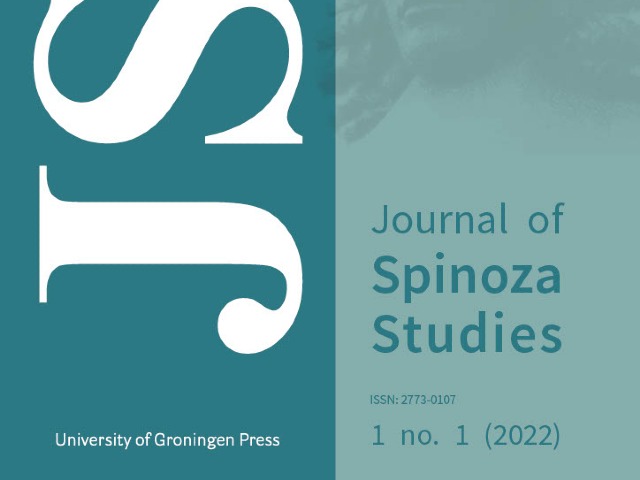 The Journal of Spinoza Studies (JSS) is a new diamond open access journal published by the University of Groningen Press (UGP). The journal aims to publish original, innovative scholarly work on any aspect of Spinoza's thought or its reception, and is committed to promoting a lively exchange of ideas among scholars working in different intellectual and philosophical traditions. JSS is open access and does not charge submission fees.
The journal is supported by contributions from several founding Spinoza societies and donations from members of the journal's scientific committee. For its first issue the journal received funding from the UG's Diamond Open Access Fund.
Dr Andrea Sangiacomo is the editor-in-chief of the journal, together with Dr Kristin Primus (UC Berkeley). In this interview he talks about the experience of setting up a diamond open access journal from scratch.
Why did you decide to start a Journal of Spinoza Studies? Does the journal fill in a gap in this field of study?
In the late 1990s, Studia Spinozana, the former official Spinoza journal was discontinued and for two decades the growing Spinoza community around the world remained without a main publication venue. The decision to start a new journal was in the air for some time, but especially since 2018. I then started concretizing this idea by collaborating with a broad group of Spinoza scholars and national Spinoza societies, which are now represented in the scientific committee of JSS.
Why did you decide to set-up a journal with UGP?
Being based in Groningen and having already collaborated with UGP for another open-access book project, I was already familiar with the system and quite impressed by the quality of its services. We also consulted a few other publishers who provide online and open-access platforms, but eventually we decided that UGP was offering the better deal in terms of costs, quality, and support provided.
How did you experience the process of setting up a journal 'from scratch'?
It was relatively demanding, especially in terms of coordination. We decided for instance to use a mixed language policy. While articles eventually appear in English, they need not be written in English to be submitted and reviewed by JSS. We currently allow submissions written in Dutch, English, French, German, Hebrew, Italian, Portuguese, and Spanish; papers accepted after double-blind review are translated into English before publication. This complicates the submission and review process and we had to articulate in greater details the submission policy and its implementation. But in terms of online infrastructure and workflow, the Open Journal System used by UGP works effectively.
How is the journal financed and what role did the UG's Diamond OA Fund play?
The ordinary budget of the journal is based on annual registration fees paid directly by the founding Spinoza societies and the other members of the scientific committee. However, the UG's Diamond OA Fund had a decisive role in supporting the very initial phase, in which we needed to design the layout of the journal and produce the first launching issue. This was the springboard for what we hope will be a successful series of future issues.
Could you reflect on your experiences with open access and open science in your discipline?
Open access is becoming the new standard in philosophy. As an ERC grantee, I already had to incorporate this policy in my own research and publication strategy, as open access is a compulsory requirement for ERC outputs. But I also think that open access is a powerful tool to make research results more accessible to a relatively broader global audience. Not all universities or individual researchers can afford expensive journal subscriptions, and most of the research carried out in public institutions is in fact funded through ultimately public sources. I think that it is fair to let the outputs of this research be freely available for the public.
About the author
Giulia Trentacosti
Open Access and Scholarly Communication Specialist, University of Groningen Library