Open Access Publication in the Spotlight (March) - 'Green and Just? An Update on the European Green Deal'
| | |
| --- | --- |
| Date: | 23 March 2021 |
| Author: | Open Access Team |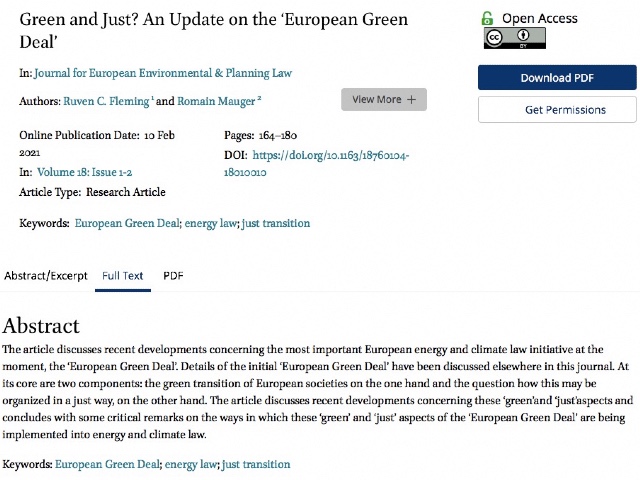 Each month, the open access team of the University of Groningen Library (UB) puts a recent open access article by UG authors in the spotlight. This publication is highlighted via social media and the library's newsletter and website.
The article in the spotlight for the month of March 2021 is titled Green and Just? An Update on the 'European Green Deal', written by Ruven Fleming and Romain Mauger (from the Law on Energy and Sustainability research programme at the Faculty of Law).
Abstract
The article discusses recent developments concerning the most important European energy and climate law initiative at the moment, the 'European Green Deal'. Details of the initial 'European Green Deal' have been discussed elsewhere in this journal. At its core are two components: the green transition of European societies on the one hand and the question how this may be organized in a just way, on the other hand. The article discusses recent developments concerning these 'green' and 'just' aspects and concludes with some critical remarks on the ways in which these 'green' and 'just' aspects of the 'European Green Deal' are being implemented into energy and climate law.
We asked the authors a few questions about the article:
This article was published open access, was open access a deliberate choice?
Yes and no. In this particular case we noted that the library has an agreement with the publisher. We have our Open Access Ambassador at the Faculty of Law and worked with him on the article. It was a rather pleasant experience.
Did requirements of the funders also play a role in your choice to publish this article open access?
Romain's position is funded by an H2020 project (SMILE). Although this article is not directly the fruit of his project's research (otherwise it would be acknowledged in the article), the open access publication requirements set by the European Commission for the projects it finances incentivize authors to publish as much as possible in open access.
How common is open access publishing in your field/discipline?
Not common at all. We strongly believe, however, that the research we are doing has been financed by taxpayers and the result should, thus, also be made available to them. We must not forget that in the current system the taxpayer pays three times for public research, namely for the researchers' salary and equipment, for the time spent by the peers acting as reviewers, and for the academic community to access the scientific journals (via subscriptions).
As far as we are concerned, we are a peculiar team in a sense, because Romain is sort-of a digital native, whereas Ruven does not even own a smartphone. Every one of these approaches has their value and we believe combining both is strongest. That is why we went for open access and `normal´[printed] publication in the journal at the same time.
Romain, you are a participant in the 'You share, we take care' project, based on the Taverne Amendment. This amendment enables making the final version of short scientific works (articles or book chapters) available via Pure (and the UG research portal) six months after publication. Why did you choose to participate in Taverne?
When I heard about the option to almost automatically get all my publications in open access faster than with the usual tracks, and with legal protection, I signed up directly! Diving into the (open) publishing rules of each journal or book editor is time consuming and complex. I'm seeing the 'You share, we take care' project as part of a strategy to ensure that as many of my publications can reach the public as soon as possible. In genberal, when I'm about to publish an article with a journal that is not part of the VSNU open access agreements, or about to publish a book chapter, I'm contacting the open access service at the library to seek advice. They always provide helpful information.
Could you reflect on your experiences with open access and open science in general?
We think it generally is a justice issue that publishing companies are trying to `outsource` the publishing costs for Open Access to individual researchers. This is not fair, as the researcher is providing the knowledge already and should not have to pay for a publication in a `normal´ paper journal. This creates a high barrier to open science. Now universities have to play `catch up` and luckily our library has contracts with all these publishers. But the deterrent in our field is set: when people submit their articles to journals and during that process are confronted with statements like `do you agree to bear full responsibility for open access publication costs for this article (2000 Euros)´ - as a lawyer you will probably be very inclined to not tick that box.
The fact that the price might very well be already covered by an agreement between our University and the respective publisher is not mentioned in most homepages of journals in our field and, if it is covered, you have to select the licence that your University holds. All of this requires a lot of additional effort to find out. This, combined with the fact that traditional journal publication is still the non-plus ultra in our field, makes it unlikely that open access publications will become the new standard in the field of law any time soon. The system needs to be made more user friendly and we see publishing houses to be mainly in charge of this.
Useful links:
The University of Groningen has open access ambassadors at each faculty, they can assist you if you have open access questions specific to your discipline.
Taverne amendment: Article 25fa of the Dutch Copyright Act (Auteurswet) grants the author of any short scientific work that is fully or partly financed by Dutch public funds the right to make this work freely available to the public, following 'a reasonable term' after its publication.
Journal browser: search engine that can be used to check if an APC discount is available for a specific journal
Openaccess.nl: provides an overview of the open access deals and gives details about the workflow that the publishers use.
openaccess rug.nl: ask all your open access-related questions to the library's open access team
Citation:
Fleming, R. C., & Mauger, R. (2021). Green and Just? An Update on the "European Green Deal." Journal for European Environmental & Planning Law, 18(1-2), 164–180. doi:10.1163/18760104-18010010
If you would like us to highlight your open access publication here, please get in touch with us.
About the author
Open Access Team
The Open Access team of the University of Groningen Library
Link:
/openaccess