Open Access Publication in the Spotlight (October) - '#Detroit Music City: Analyzing Detroit's Musical Urban Imaginary Through a Cultural Justice Lens'
| | |
| --- | --- |
| Date: | 21 October 2022 |
| Author: | Open Access Team |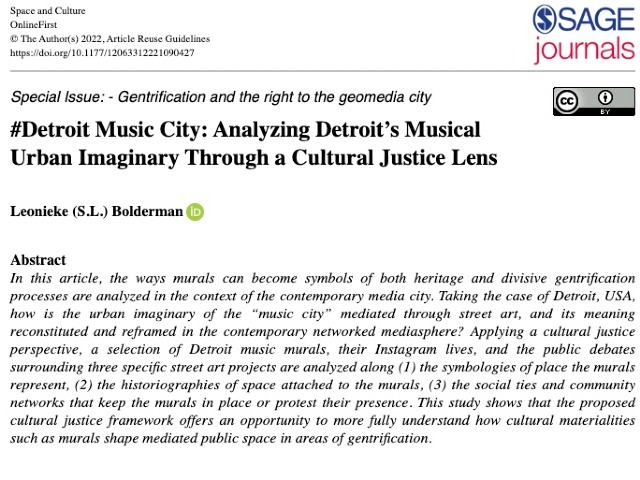 Each month, the open access team of the University of Groningen Library (UB) puts a recent open access article by UG authors in the spotlight. This publication is highlighted via social media and the library's newsletter and website.
The article in the spotlight for the month of October 2022 is titled #Detroit Music City: Analyzing Detroit's Musical Urban Imaginary Through a Cultural Justice Lens, written by Leonieke Bolderman (Department of Cultural Geography, Faculty of Spatial Sciences).
Abstract
In this article, the ways murals can become symbols of both heritage and divisive gentrification processes are analyzed in the context of the contemporary media city. Taking the case of Detroit, USA, how is the urban imaginary of the "music city" mediated through street art, and its meaning reconstituted and reframed in the contemporary networked mediasphere? Applying a cultural justice perspective, a selection of Detroit music murals, their Instagram lives, and the public debates surrounding three specific street art projects are analyzed along (1) the symbologies of place the murals represent, (2) the historiographies of space attached to the murals, (3) the social ties and community networks that keep the murals in place or protest their presence. This study shows that the proposed cultural justice framework offers an opportunity to more fully understand how cultural materialities such as murals shape mediated public space in areas of gentrification.
We asked author Leonieke Bolderman a few questions about the article:
Was publishing this article open access a deliberate choice? How important is open access to the field of cultural geography?
This article was published open access as part of the open access publishing agreement for Dutch universities, which I am very happy about. I think it is important that research is easily accessible for all who want to read it, regardless of institutional status or access. The agreement makes this possible, and it is something a researcher doesn't have to think about because it is automatic for journals that are part of the agreement. Moreover, the Faculty of Spatial Sciences has an additional open access fund to finance open access publishing for articles published in journals that are not part of the open access agreement of Dutch universities; this shows how important open access publishing is for Spatial Sciences.
In your article you analyze music-themed murals in Detroit. Which mural impressed you most, and why?
I am very impressed by the work by Elton Monroy Duran. He sees his murals as works of community art, including the local community into the design of the murals and organizing painting parties where local people help to color in the murals. This way, the murals become part of their environment not only because of their colorful presence in public space, but also by including the community in their creation.
A second piece of art I like a lot is not a mural but a mosaic depicting Aretha Franklin, located in the road in a back alley of Eastern Market. To me it represents Detroit due to its location: a little bit of unexpected beauty, celebrating local identity through Aretha, in this typically pot-holed Detroit road.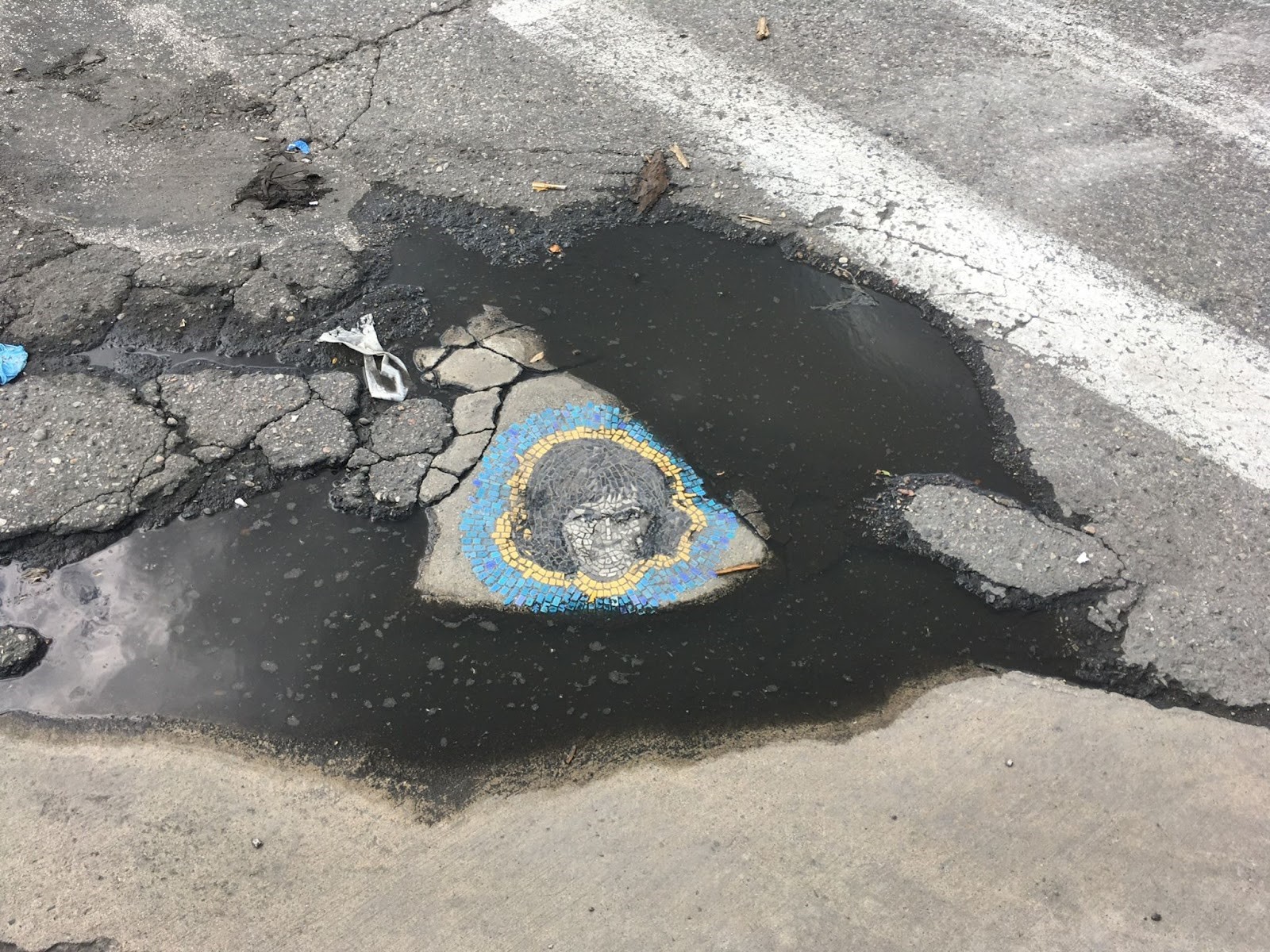 Recently, the Aletta Jacobs mural caused a lot of discussion at the UG. What is your view on this?
As I describe in the article, murals are always a starter of public discourse, a statement of either politics, heritage or identity due to their presence in public space. The Aletta Jacobs mural is no different: due to its colourful presence it already causes a stir; a mural is a statement in itself. The debate that the provocative slogan 'Studying is for ugly girls only' has caused is very interesting to me: what role do values and ideas about Aletta Jacobs, emancipation and the university play in the discourse surrounding the mural? I look forward to seeing more murals expressing the values of the university. I think it is a great way to open dialogue with Stadjers [ed: inhabitants of the city of Groningen] and tourists alike about what the university stands for, and what role it plays in the city and local community (controversial or not).
Could you reflect on your experiences with open access and open science in general?
I think open access publishing is very important, and I try to select journals based on their open access policies - although academic publishing culture also plays a role with regard to journal ranking of course. I have also published an edited collection open access thanks to a grant by the NWO, although it still involved a bit of a negotiation with the publisher to lower the costs of open access publishing and bring it within the limits of the grant. The developments beyond merely publishing open access into open science are fascinating to me, because it has so many aspects: it has implications for the methods used, for research ethics, for the kind of research you design and the kinds of answers you get. As a member of the new cohort of the Young Academy, we have actually made this the core of our yearly project this year: as researchers, how open can and should we be about the work we do, the ways we do this, and the results we get?
Useful links:
Open Access Book Fund: UG- and UMCG-affiliated authors can apply for funding the open access publication of their monograph or edited volume. The maximum reimbursement is €8,000 (incl. VAT) per book.
Open access journal browser: search engine that can be used to check if a discount on the article processing charge (APC) is available for a specific journal. UG corresponding authors can publish with an APC discount (mostly 100%, so for free) in more than 12.000 journals!
Citation:
Bolderman, L. (S. L. ). (2022). #Detroit Music City: Analyzing Detroit's Musical Urban Imaginary Through a Cultural Justice Lens. Space and Culture, 0(0). https://doi.org/10.1177/12063312221090427
If you would like us to highlight your open access publication here, please get in touch with us.
About the author
Open Access Team
The Open Access team of the University of Groningen Library
Link:
/openaccess