Oudfriese topstukken in de UB
De taalwissel Fries > Gronings en de anonieme drukker van het Friese landrecht; Anne Tjerk Popkema en Herre de Vries
Lezing
donderdag 18 oktober 2018, 16.00 - 17.00 uur
Deze eerste lezing in de reeks werd geopend door Marjolein Nieboer, directeur Universiteitsbibliotheek Groningen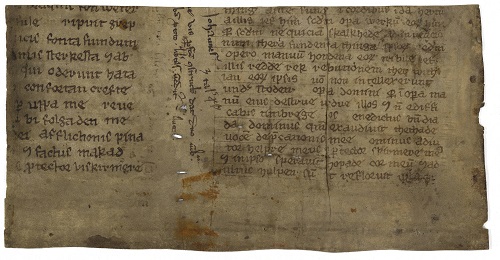 Totdat de Ommelanden in de loop van de 14e eeuw op Gronings, of preciezer: Nedersaksisch, overschakelden, waren de Ommelanden Friestalig. In de loop van de 15e en 16e eeuw werden zulke teksten in toenemende mate vertaald in het Nedersaksisch. De lezing begon met een schets van de taalovergang van het Fries naar het Nedersaksisch aan de hand van enkele Oudfriese stukken, waaronder het oudste geschreven Fries. Daarbij speelde het oudste Friestalige gedrukte boek, het Freeska Landriucht een belangrijke rol.
In het tweede deel van de lezing werd lopend onderzoek naar de anonieme drukker van het Freeska Landriucht toegelicht. Deze werkte tussen 1484 en 1487 en maakte ook nog vijf Latijnse drukken. In een ervan is kortgeleden een mogelijke autograaf van de drukker of binder aangetroffen in de UB. Ook zijn er, via de 15de-eeuwse 'aflaat'-praktijken, nieuwe ontwikkelingen te melden in de zoektocht naar de locatie van de werkplaats van de drukker – alweer met een link naar de UB.
Anne Tjerk Popkema (1975) is oudfrisist aan de RUG, en daarnaast vertaler, docent en uitgever, met als specialisatie Fries (Taalburo Popkema).
Herre de Vries (1981) is boekrestaurator en heeft samen met Elizabet Nijhoff Asser een eigen atelier in Amsterdam.
| | |
| --- | --- |
| Laatst gewijzigd: | 25 oktober 2018 10:50 |