Het drukkersexperiment, Groninger margedrukwerk uit eigen collectie
UB Binnenstad, trappenhuis, 1e-4e verdieping
Broerstraat 4, 9712 CP Groningen
Vrijdag 21 januari t/m zondag 3 april 2022
---

Aan het begin van de 20e eeuw ontstond in Groningen - net als in de rest van ons land - een groeiende belangstelling om thuis, met een eigen drukpers teksten in kleine oplage te publiceren. Het was een gevolg van de uit Engeland afkomstige Arts and Crafts-beweging, die sinds de negentiende eeuw een belangrijke impuls had gegeven aan de herwaardering van het drukkersambacht. Als reactie op het industrieel geproduceerde drukwerk kregen ook Groningers als Hendrik Werkman belangstelling om te gaan experimenteren met handmatig gedrukte publicaties. In die context ontstond het 'marginale' drukwerk, dat telkens door één persoon werd gemaakt met liefde voor het drukken met houten of loden letters, inkt en een handmatig bedienbare pers. Terwijl de grafische industrie in Groningen steeds meer bedreigd wordt door de komst van internet, bloeit het marginale drukwerk als nooit tevoren.
Door de inzet van tientallen Groninger margedrukkers blijft de kennis van de historische druktechnieken behouden. Niet alleen hun materialen maken deel uit van het industriële erfgoed van de stad, maar ook hun documentatie, kennis en ervaring. Het GRID is het grafisch museum dat dit erfgoed beheert en doorgeeft. Maar ook voor de Bijzondere Collecties van de Universiteitsbibliotheek Groningen behoort het aankopen van het werk van Groninger margedrukkers tot een belangrijk aandachtspunt van het verzamelbeleid.
In deze tentoonstelling wordt een selectie getoond uit het werk van vier Groninger margedrukkers. Het werk van Elze ter Harkel, Marlies Louwes, Dick Ronner en Hester Verkruissen geeft een goed beeld van het gevarieerde drukwerk dat in Groningen gemaakt én verzameld wordt.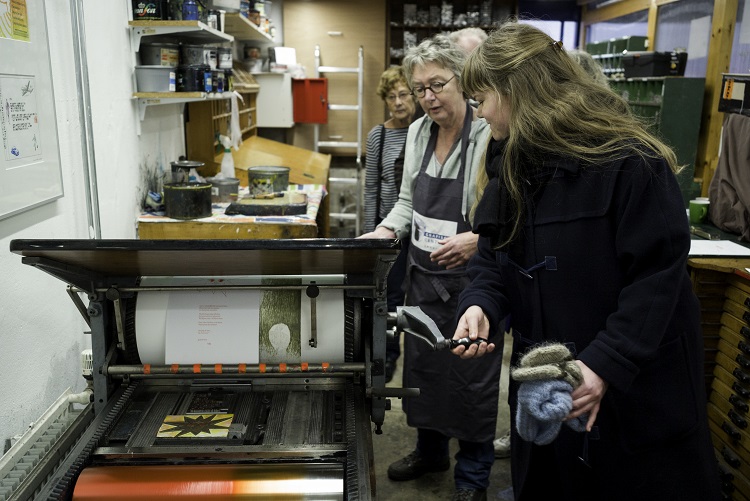 | | |
| --- | --- |
| Laatst gewijzigd: | 14 april 2022 12:00 |