Sybrand Buma's Search from Drenthe to the Cape
by Frida van Til
In 2021, Sybrand Buma, Mayor of Leeuwarden and alumnus of the University of Groningen, contacted our department of Special Collections. He was wondering whether the University of Groningen Library was interested in a number of books from the inheritance of his father, Bernhard van Haersma Buma. He ended up donating three books dating from the 17th and 18th centuries. These books once belonged to Buma's distant ancestor Willem Hiddingh (1773–1839).
One of these books is Iurisprudentia Forensis Romano-Saxonica by Benedict Carpzov, published in 1703. Its size is impressive, but it is unclear when the Buma family acquired it. The two other, smaller books are more interesting when it comes to provenance. The endpapers of both Mythologia Aesopica from 1610 and Johann Zopfens' Grundlegung der Universalhistorie from 1786 have been signed by various descendants of the Hiddingh family. These handwritten notes inspired Sybrand Buma to research the background of these former owners. As with many old objects, it is the stories behind the books that put their importance in a different light and sometimes lead to interesting discoveries.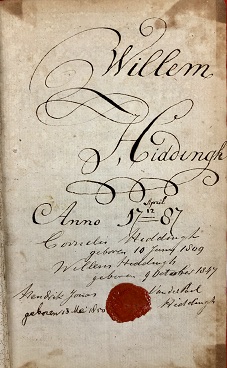 On 9 June 2022, Sybrand Buma held a lecture about his research at the department of Special Collections in Groningen. In his presentation, titled Tussen Drenthe en de Kaap ('Between Drenthe and the Cape'), he revealed an intriguing part of his family's history that he had managed to unearth after he acquired his father's books. These books tell the story of the eventful lives of Willem and Cornelis Hiddingh. Buma's search took us from Drenthe to Cape of Good Hope and back. Willem Hiddingh studied law in Groningen and went on to work as a lawyer in Drenthe. As an Orangist, he no longer felt at ease in the Republic after the French invasion of 1795, so he left for South Africa to work there as a member of the Council of Justice. In South Africa, he married Anna Margaretha van der Poel. Two of their children, Willem Jr. and Cornelis, were shipped on a three-master to the distant and, for them, exotic Netherlands to receive a proper education.
Cornelis, whose signature is the second one in the donated copy of Mythologia Aesopica, studied law in Groningen and went on to become an alderman and lawyer in Assen, although it took him several elections before he was finally elected to the positions to which he aspired. In 1855 he left for the Orange Free State and Transvaal as an envoy for King Willem III, which turned out to be a pointless mission. Two years later, he returned to the Netherlands fairly disillusioned and settled in Arnhem. He was killed in a fatal accident in 1871, when he was hit by a steam train on a railway crossing.
This branch of the Hiddingh family has died out, but it is kept alive thanks to these books, the traces of their former owners, and Sybrand Buma's search. Buma's story shows, once again, how books that may not seem that interesting at first glance can still be valuable and fascinating. For the University of Groningen Library, this history of the Hiddingh descendants is especially interesting, as its collection contains an album amicorum from Willem Hiddingh Jr. as a student in Groningen.
| | |
| --- | --- |
| Last modified: | 27 July 2022 09.53 a.m. |