Haikus by Henny Prins
by Elje Teda Buist
Since December 2012, I have had the honour of receiving best wishes for the new year from poet, prose writer and bookseller Henny Prins. In 2012, the Henny & Mirre compliments were accompanied by a haiku:
someone passes by
the time when Old becomes New –
and then a dog barked

The wishes for the first few years were sent on behalf of both Henny Prins and his partner Mirre Prins-Kiliaan, who also wrote haiku. Mirre sadly passed away in 2014 and I never had the pleasure of meeting Henny or Mirre in person. My sister, who knew Henny very well, was responsible for the start of our written exchanges. Henny was one of the few people who always used my full name. He often praised my parents for naming me Elje Teda.
His wish for 2020 was the following:
May 2020 bring us good fortune in print once again!

Unfortunately, Henny himself was not so lucky: on 18 January 2020, at the age of 71, he died from a lung infection.
I am delighted that he was still able to publish a collection of haiku in December 2019, and proud to announce that a copy is now part of the University of Groningen Library's Special Collections.
33 / Henny Prins
Publishing details
Haiku collection 33 contains — with some minor changes and additions — a selection from the following publications (in Dutch):
Dichter bij de hemel (i.e. Nearer to Heaven, 1995), Achter de schutting (i.e. Behind the Fence, 1996) and Het Noord Oosten (i.e. The North East, 1998).
Designed and published by De Marge private press in an edition of 125 numbered copies.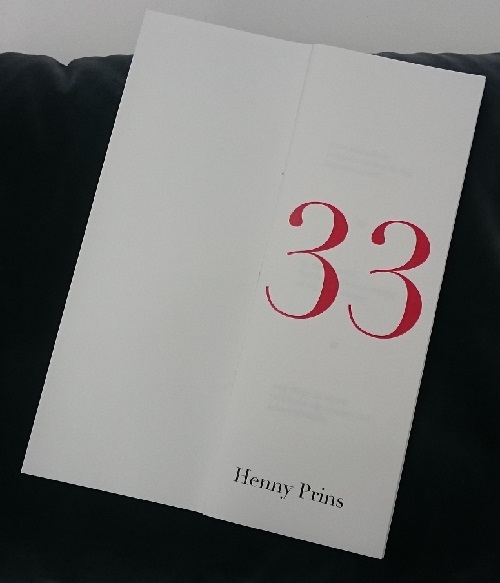 In addition to the above-mentioned collections of haiku, Henny Prins also wrote about his childhood memories of living in the Korreweg neighbourhood of Groningen and about his travels to the Far East in his 2001 publication De tovertuin (i.e. The Magic Garden). In 1982, the globetrotter returned to Groningen and opened an antiquarian bookstore called Sphinx with partner Fiep Elzer at Nieuwe Boteringestraat 56. He left the business in 2000.
In the 17th century, Japanese poet Matsu Basho (1644-1694) invented the modern haiku: a short but meaningful impression of nature in which a sudden feeling of unity with everything in existence is intuitively expressed. Here in the West, the haiku was given the form of a short poem consisting of 17 syllables, in three lines of 5-7-5 respectively. The haiku does not express but indicates instead.
The title for collection (33) does not appear to have been randomly selected. According to the Bible, Christ was 33 years old when he was crucified – but let's not get ahead of ourselves, Easter is still a few months away. On a trip to France, poet Henny Prins passed through a Belgian village called Beauraing, in the province of Namur. Legend has it that, between 29 November 1932 and 3 January 1933, Mary appeared 33 times to five village children. This is reflected in the collection. In addition to Mary and Christ, Buddha, a fat toad, and seagulls circling above the Gedempte Diep also served as a source of inspiration. Etty Hillesum's war diary, Het verstoorde leven (i.e. Life Disturbed), inspired the following haiku:
some six million Jews
two minutes to remember ~
deafening silence
| | |
| --- | --- |
| Last modified: | 05 February 2020 12.29 p.m. |