GDBC in de startblokken
Op dinsdag 3 april viert het Groningen Digital Business Centre (GDBC) haar opening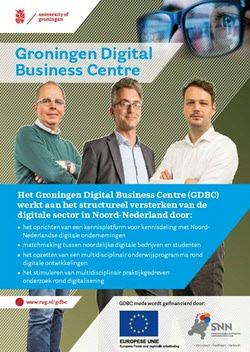 Het wordt een inspirerende middag met interessante en bekende sprekers waarin voldoende ruimte is voor discussie en interactie. Wij sluiten de middag af met een gezellige borrel.
Komt u ook de opening samen met ons te vieren? Het aantal zitplaatsen voor het middagprogramma is beperkt. Meld u direct aan!
Aanmelden
De aanmelding is afgesloten. Bij vragen en/of opmerkingen kunt u contact opnemen met Bas Baalmans, Projectleider GDBC, gdbc@rug.nl of 06 22494353.
Wat: lancering GDBC
Datum en tijd: dinsdag 3 april, 14.30 - 18.00 uur (inclusief afsluitende borrel)
Locatie: Zernike Campus, Plaza Duisenberg Gebouw, Nettelbosje 2, 9747 AE Groningen.
Details
Programma launch GDBC
Bekijk alle praktische informatie over parkeren en programma tijdens de opening GDBC .
Download de flyer met het programma van de lancering GDBC >>
N.B. De presentatie van prof. P.K. Kannan wordt gegeven in het Engels. De rest van het programma wordt in het Nederlands verzorgd.
| | | |
| --- | --- | --- |
| 14:30 uur | Ontvangst met koffie en thee | Plaza Duisenberg Gebouw |
| 15:00 uur | Opening door dagvoorzitter Aize Bouma, en vervolgens door de directeur GDBC prof. dr. Peter Verhoef | 5433.0005: Rode Zaal |
| 15:30 uur | Spreker prof. P.K. Kannan (digital marketing, marketingmodellen, CRM) -> ! in het Engels | 5433.0005: Rode Zaal |
| 16:00 uur | Spreker drs. Benjamin Derksen (online marketing, ondernemer, motivator) | 5433.0005: Rode Zaal |
| 16:30 uur | Spreker drs. Patrick Brouns, lid Gedeputeerde Staten Provincie Groningen (CDA) | 5433.0005: Rode Zaal |
| 17:00 uur | Afsluitende borrel | Plaza Duisenberg Gebouw |

Meer weten over het GDBC en haar activiteiten? Volg GDBC op Twitter en/of LinkedIn.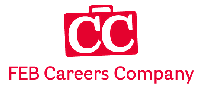 CC en UGBS
De FEB Careers Company (CC) en de University of Groningen Business School (UGBS) werken nauw samen met het GDBC. Employer Branding & Recruitment van de CC brengt bedrijven en studenten van de Faculteit Economie en Bedrijfskunde met elkaar in contact. De UGBS geeft uw huidige succesvolle carrière een boost met executive education programma's op maat.


| | |
| --- | --- |
| Laatst gewijzigd: | 09 april 2019 12:01 |