Innovating Public Health
Navigating complex challenges and designing sustainable solutions
Target group
PhDs (and/or Postdocs) who have an interest in solving current, real-life urgent public health challenges (not necessarily related to their own research questions). Participants can be positioned within the Groningen Medical Graduate Schools, or in any other school (as long as they have an interest in solving Public Health related challenges).
The program in a nutshell
Multidisciplinary teams of PhD students work together to solve real-life complex challenges in the area of Public Health
The approach is 'learning by doing'. The participants will work on a number of societal challenges, proposed by societal partners of the Aletta Jacobs School of Public Health (our 'clients'), various (healthcare) organisations
6 ECT program, running from early November 2020 till mid-June 2021
The program is geared towards achieving societal impact, using Design Thinking and impact entrepreneurship training as a method to develop user-centered solutions.
By participating in this program, participants…

grow a relevant network, consisting of (healthcare) organisations, companies and other PhDs/postdocs
develop core competencies such as collaboration skills, design thinking and entrepreneurship
contribute to solving highly complex and pressing public health challenges
The skills, knowledge and mindset participants gain during the program offer different career perspectives, within and particularly outside academia.
Why this program?
The overarching problem that the INPHECT program addresses is two-fold:
Society is going through a paradigm shift when it comes to the approach of (public) health. We are going from a disease-based system, in which we treat people when they fall ill, to a prevention-based system, in which we endeavor to prevent people becoming sick in the first place. Public health questions are complex (or 'wicked') problems by default as many different stakeholders and actors are involved, and solutions will require input from many different disciplines (the current COVID-19 crisis is a striking example). Moreover, due to pressures on health systems, ageing populations and other trends, public health challenges are getting more and more complex and urgent; the status-quo is not sustainable. Our program will introduce participants to this paradigm shift and educate them to become the public health professional of the future.

Currently, PhD students who choose to pursue a career outside academia are not well equipped to do so. In order to tackle the massive challenges ahead of us, we need people with '21st century or wicked skills', who know how to work together across boundaries of traditional disciplines; have an entrepreneurial mindset; can navigate complexity; and know how to develop impactful solutions in a user-centered and 'sustainable' way (creating true value for society).
Online program
Given the continued uncertainty regarding COVID restrictions and capacity challenges in various buildings, this program will be delivered mainly online using Blackboard Collaborate.
Content of the program
The phases of the Design Thinking and entrepreneurial process (pictured below) are used to structure our program.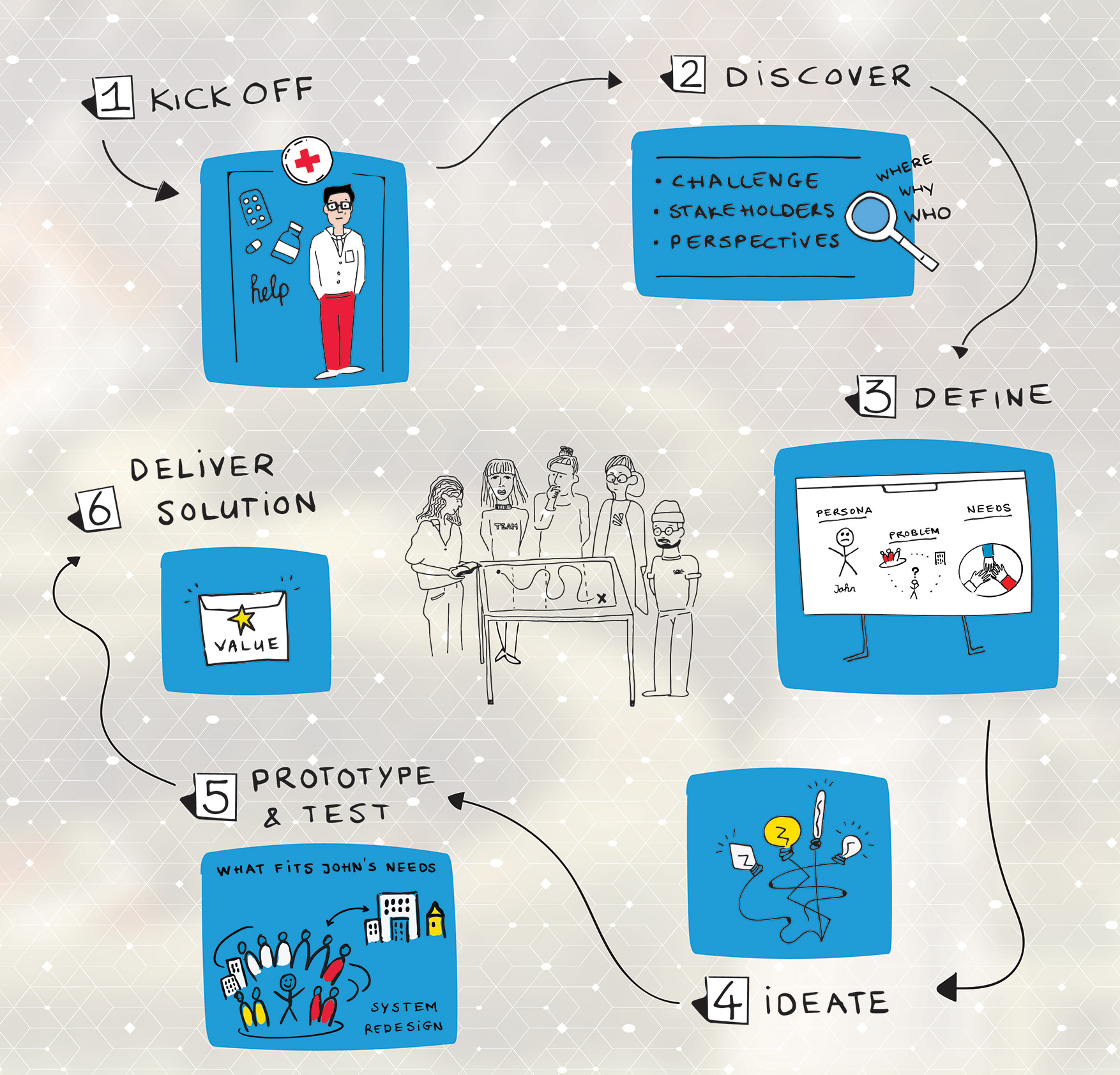 ---
The phases of the program teaching schedule are coupled to the different phases in the design thinking process.
Kick-off

In the first week, the clients will pitch their challenges. Students will select a challenge and form interdisciplinary teams in which they complement each other's knowledge and skills to collectively start their journey to solve the challenges they are presented with.

Phase 1: Discover

Teams create a thorough understanding of the challenge, using desk and field research. They will learn about the audience(s) for whom they are solving problems.

Phase 2: Define

Teams collate data from the discover phase to define the design problems and challenges. They create 'personas' (i.e. rich descriptions of 'typical' end users), and assess the size for the 'market' they represent (potential for impact). In addition, the 'customer journey' (the problem with all its facets from the end user perspective) and value propositions are explored. Finally, a problem definition is defined, so the groups decide which exact (part of the) challenge they will try to tackle.

Phase 3: Ideate

In time-boxed brainstorm (sprint) sessions guided by design thinking experts, groups will come up with creative and suitable solutions. A test plan for the next phase is created.

Phase 4: Prototyping and testing

In this phase, the goal is to experiment with solutions and test them with the end users in order to come up with the best possible solution to the problem. Once validated by the end users, the solutions are also evaluated in terms of the implementation difficulties. Finally, participants will learn how to best pitch their solutions.

Deliver solution

The program concludes with a handover in which (a presentation of) the solutions to peers, end users and clients will be scheduled. In addition, groups discuss with their clients what will need to happen for a successful transfer of their solution to the client (with a view to implementing the solution into practice).

During the whole process, the end users and clients will be invited to participate, to ensure that the needs of all stakeholders are being considered.
---
Program and dates
You can find the program here.
Personal development plan
As part of the program, participants will write a personal development plan. In this plan they outline which of the competences they want to develop during the course. We use two frameworks of competences for this; the first being the EntreComp Framework (European competences for entrepreneurship), and the second being the PhD competence Model (developed collectively by the Dutch University Medical Centres). In addition, they can add other, personal, areas for development. Students will be coached during the course to monitor progress towards their goals.
Time investment: 6 ECT
11 days of workshops/lectures (88 hours)
Writing personal development plan + coaching and reflection (14 hours)
Self-guided work (66 hours)

Fee for participation
This first year (start November 2020) there will be no fee for participation in this program.
Frequency per year
1 X
Period of year
Nov 2020 – June 2021
Mentoring roles in the program
Each team will be mentored in the following ways:
The clients (the societal partners whose challenges we work with) will mentor the group(s) who work on their challenge from the industry perspective
Experienced Design Thinkers and Entrepreneurship Trainers facilitate the workshops and Q&A moments, and coach the groups on the process
Coaches will mentor individual team members in relation to their personal development plan
Groups will also have the opportunity to coach each other (e.g. sharing experiences) during peer-to-peer sessions
Certificate
Participants who finish this program will receive a certificate. Participants are expected to attend all sessions and to (as a group) hand in a solution and action plan. In case individual attendance in less than 80%, participants are expected to discuss with their team how to make up for this.
Examples of potential challenges
How might we enhance self-reliance in people with early stage dementia?
How might we signal stress in adolescents and what can we do about it?
How might we sustain health-related citizen-led initiatives?
Examples of clients
Municipalities, hospitals, governmental public health departments and other organisations
Contact
For questions, please contact the course coordinator: Marije Bosch (m.c.bosch@rug.nl)
This program is sponsored by:
| | |
| --- | --- |
| Last modified: | 24 September 2020 4.41 p.m. |