Aletta Dive - Samen voor de jeugdzorg: het mensenrechtenperspectief
Wanneer:

vr

26-05-2023 10:30 - 15:00
Waar:

Het Groot Handelshuis, Grote Markt 21, 9712HR Groningen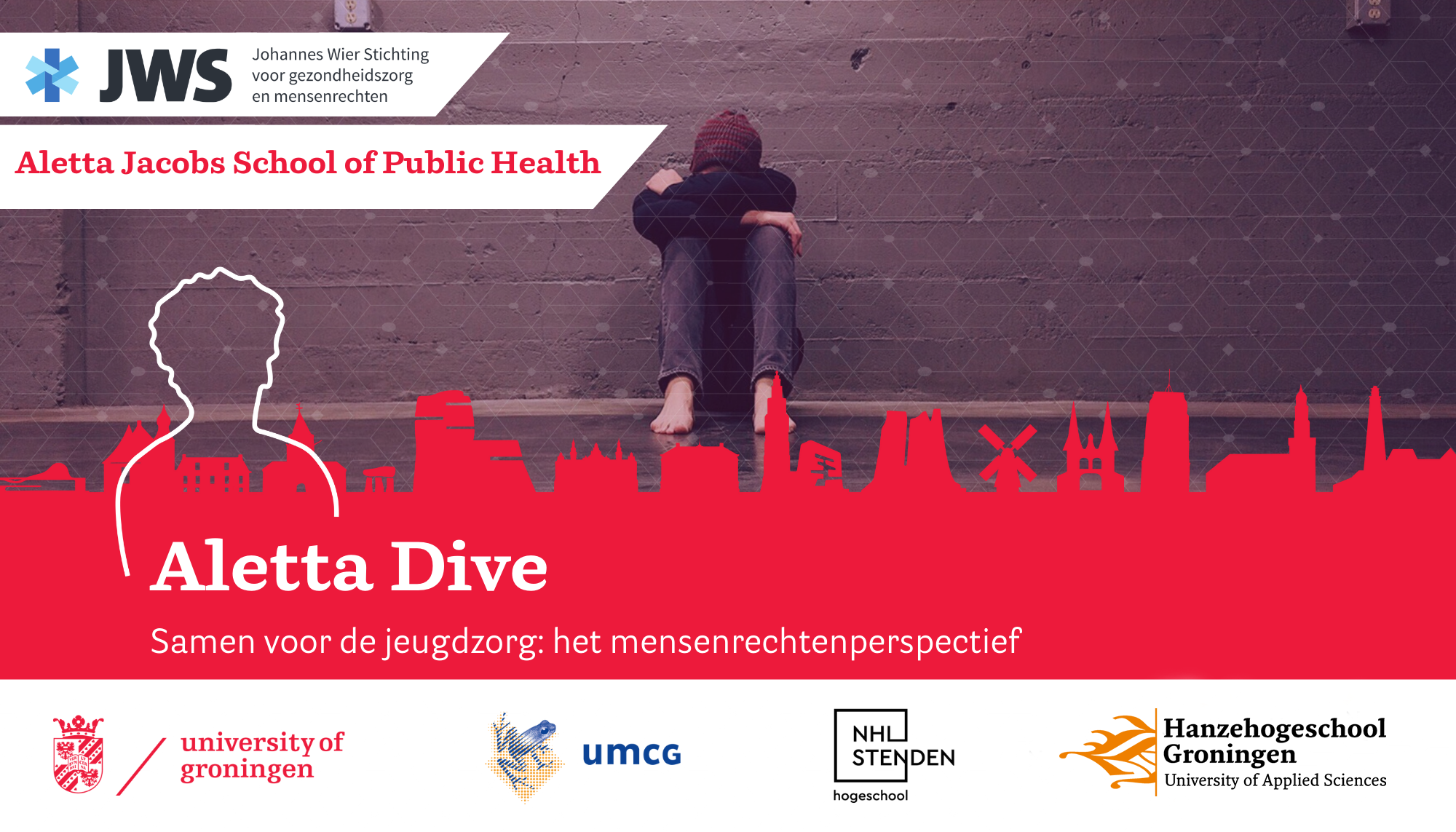 De Aletta Jacobs School of Public Health en de Johannes Wier Stichting nodigen u bij deze graag uit om aanwezig te zijn bij onze Aletta Dive "Samen voor de Jeugdzorg: het mensenrechtenperspectief".
Tijdens de 'Dives' brengen we wetenschappers, professionals, beleidsmakers en ervaringsdeskundigen (en/of inwoners) bij elkaar om het te hebben over actuele onderwerpen binnen het thema Publieke Gezondheid.
De jeugdzorg in Nederland kampt met ernstige problemen. Al jaren zijn er wachtlijsten en krijgen sommige kinderen en hun gezinnen niet de hulp die nodig is. Ouders, professionals, leraren, beleidsmakers zetten zich maximaal in. En toch krijgen we als maatschappij de uitdagingen rond de jeugdzorg niet opgelost. Deze problemen worden beschreven in het preadvies van de Vereniging voor Gezondheidsrecht, dat verschijnt in april 2023. Dit rapport is het startpunt van de discussie op 26 mei.
De Dive over Jeugdzorg stelt het mensenrechtenperspectief centraal: hoe kunnen rechten en juridisch redeneren handvatten bieden bij het oplossen van de problemen in de Jeugdzorg?
We verkennen de mogelijkheden die het mensenrechtenperspectief biedt om stappen te zetten richting een situatie die recht doet aan de kinderen in (Noord-)Nederland. We bespreken vragen als: Hoe kan de overheid het recht van het kind op zorg waarborgen? Hoe kan het recht handvatten bieden voor professionals in de jeugdzorg? Hoe kan juridisch redeneren helpen bij een herinrichting van het jeugdzorglandschap? Welke goede voorbeelden zijn er en welke mogelijkheden biedt het recht om die te versterken of op te schalen?
Samen leggen we de basis voor een manifest voor beleidsmakers.
We zijn benieuwd naar uw perspectief, en horen u graag op 26 mei!
Wij nodigen u uit zich hier te registreren.