Lifelines makes data available for education program AJSPH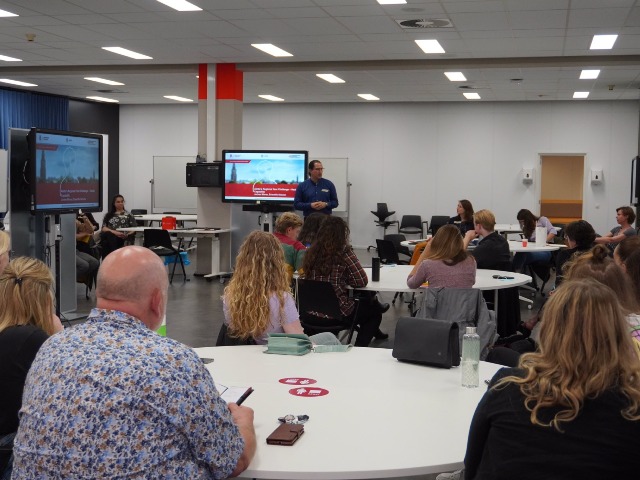 For the first time, data from the large population-based study Lifelines are available for education. In the Regional Year Challenge of the Aletta Jacobs School of Public Health (AJSPH), students have access to a large, specially developed public health data set.
Regional Year Challenge
To match societal challenges to big data and the creativity of students, AJSPH has started the Regional Year Challenge. This academic year, students from six different educational programs of the University of Groningen (UG), Hanze University of Applied Sciences (Hanze UAS), UMCG and NHL Stenden UAS will work on challenges with a view to improve the ability of residents of the northern Netherlands to optimize their health.
Access to Lifelines data
Students have access to a large Lifelines dataset, developed specially for them: a unique database with public health data of people in the northern Netherlands. Within Lifelines, 167,000 people have voluntarily shared health data since 2006. Aafje Dotinga, manager Science and Research at Lifelines: "By presenting students with societal challenges and letting them use Lifelines data to tackle those, we hope to find practical solutions for more healthy years and inspire students for science. We are very curious about the results that are conceived in this collaborative effort."
Societal challenges
Thursday, September 16, the kick-off of the Regional Year Challenge took place, together with the various municipalities and healthcare institutions from the three northern provinces, all of which presented a challenge. For example, the Wilhelmina Hospital Assen wants to know how they can ensure that patients follow the recommended lifestyle programs after discharge from the hospital. Municipality De Fryske Marren asks how they can involve local stakeholders in reducing health inequalities in their municipality.
Solving complex challenges together
All of the challenges are related to the overarching theme of the year-long challenge: strengthening the health capacity of people in the northern Netherlands so that they can achieve optimal health.
Jochen Mierau, scientific director of AJSPH: "Health is not only a responsibility of individual citizens; we need to create a society in which people are enabled to achieve optimal health, taking into account the many factors that influence health. Genetic predisposition, the social, political and economic environment and access to (public) healthcare, for example, have a lot of influence but cannot be changed by citizens themselves. I am proud that so many different organizations want to work on this: only together can we solve such complex issues."
Through networking events, students and clients will share insights and results throughout the year. Results may include visualizations of data, policy advice and practical innovative solutions.
Regional Year Challenge AJSPH
The Regional Year Challenge is coordinated by AJSPH, Patient Centered Innovation (PACE) UMCG and Lifelines.
Students are from the Minor More Healthy Years (UG), the Minor Datawise (UG), the Research Master Track Health Systems and Prevention (UMCG), the Master Healthy Ageing Professional (Hanze UAS), the Minor Healthy Ageing (Hanze UAS) and the Master Design Driven Innovation (NHL Stenden UAS). These programs also collaborate in AJSPH-Education; a platform for public health related education in the northern Netherlands.

Societal partners of the Regional Year Challenge are UMCG, Wilhelmina Hospital Assen, Zorg Innovatie Forum, Municipality Groningen, Municipality Heerenveen, Municipality Fryske Marren and Drenthe Gezond.
More information can be found on the website van AJSPH.