Drakenbloed en Heilig Vuur. De rol van planten in de geneeskunde
Vanaf 11 oktober | Een kleine tentoonstelling over krachtige kruiden.
Tegenwoordig heeft de farmaceutische industrie voor alles wel een chemisch poedertje of pilletje dat geneest of de klachten verzacht, maar chemische middelen bestaan nog maar kort. Eeuwenlang waren mensen aangewezen op stoffen die aan planten werden onttrokken door middel van aftreksels, compressen, tincturen of zalven.
Sinds de opkomst van de chemie in de achttiende eeuw, concentreerden artsen en apothekers zich meer en meer op de werkzame stoffen in planten. Daarna is het belang van de chemie alleen maar gegroeid. Veel bekende medicijnen uit planten worden synthetisch nagemaakt. Anderen worden ontwikkeld in het lab.
Toch zijn planten van groot belang gebleven voor de geneesmiddelenindustrie. Nog altijd inspireren ze de zoektocht naar nieuwe medicijnen en leveren ze de grondstof voor bestaande middelen. In deze expositie wordt aandacht besteed aan de geschiedenis van de planten en kruiden in de geneeskunde.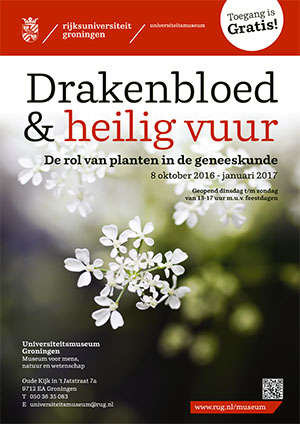 | | |
| --- | --- |
| Laatst gewijzigd: | 13 augustus 2021 15:26 |