The first SHARE Open Science Award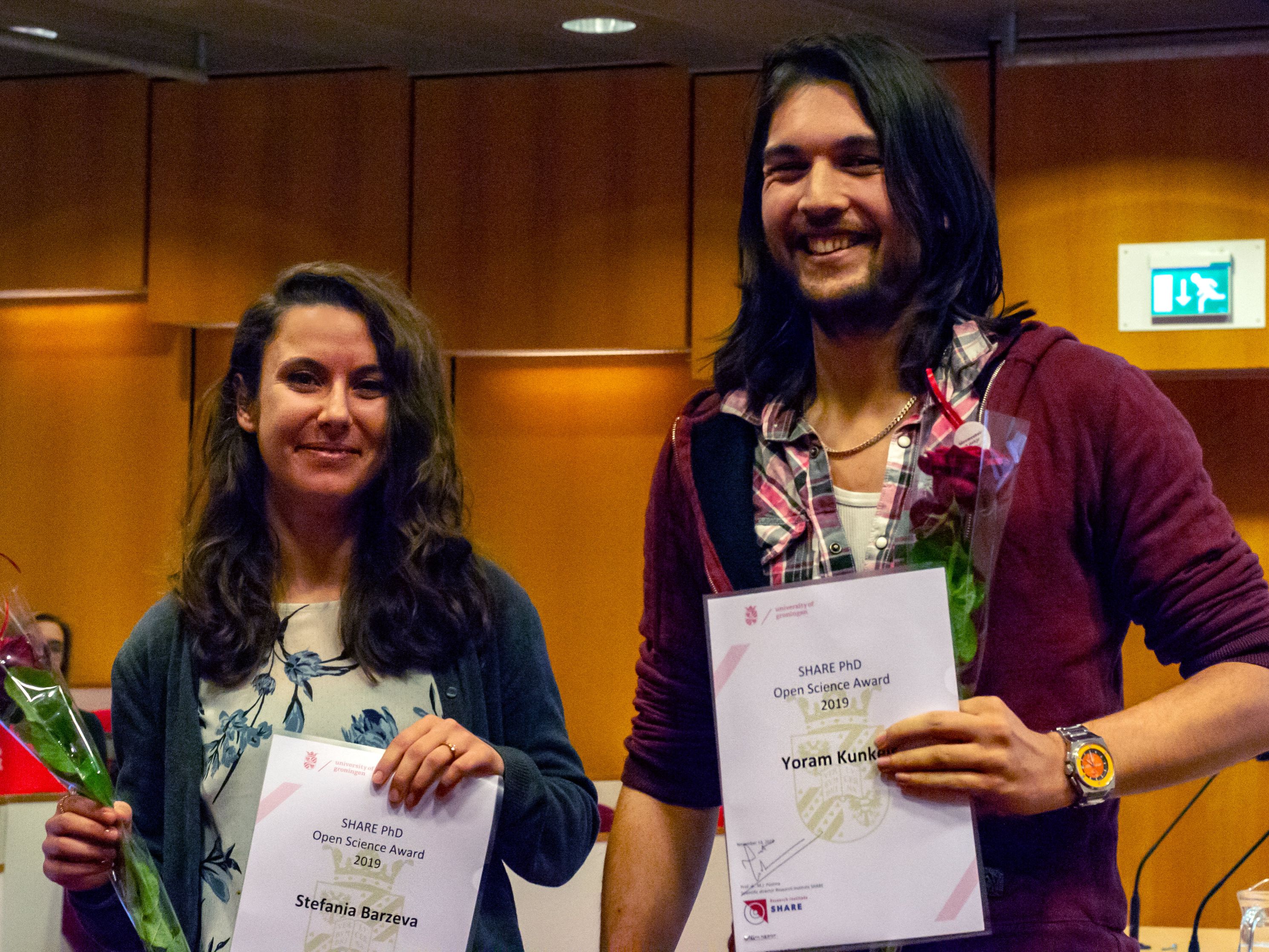 On 14 November 2019, Research Institute SHARE (one of UMCGs' five research Institutes) organized its yearly Research Day around the theme of IMPACT. Researchers of the institute – both PhD's and senior staff – had the opportunity to attend several keynote lectures and workshops.
SHARE Open Science Award
One of the highlights of the day was the presentation of the first SHARE Open Science Award. With this initiative, SHARE wants to stimulate the shift to more openness and transparency in science. Its first two winners were PhD students Stefania Barzeva and Yoram Kunkels, from the Interdisciplinary Center Psychopathology and Emotion Regulation (ICPE). They received the award for integrating Open Science principles in their work, such as pre-registration, sharing of data sets and publishing in Open Access journals. Both early career researchers are also advocates of Open Science in their networks and active members of the recently founded Open Science Community Groningen (OSCG).
Creating awareness
Both winners were happy to have received the SHARE Open Science Award. According to Stefania Barzeva, the initiative shows 'that there is a growing demand to change the current incentive structure and that a shift in how we approach science is underway. Receiving this award means that the open science practices implemented in our work and the transparency of our research are valued and recognized by our institute.' Also Yoram Kunkels appreciates winning the award, which to him is about 'creating awareness about Open Science, and especially motivating early career scientists to learn and apply Open Science practices in their work. Surely, Open Science is just a waypoint on a journey to improve our scientific community as a whole, but in order to change those things that hamper current scientific practices (e.g., reproducibility issues, many undocumented researchers degrees-of-freedom, a crooked incentive structure, to name a few), we first need an open and transparent work environment.'
More information
To learn more about Open Science related topics, Yoram and Stefania invite you to check out the Open Science Community Groningen or join one of the biweekly Reproducibilitea meetings.