Open science practices in different disciplines (7) - an interview with Joost Frenken (Dean FSE) and Sonja Billerbeck (Open Science Ambassador)
| | |
| --- | --- |
| Date: | 16 March 2023 |
| Author: | Giulia Trentacosti and Marjan van Ittersum |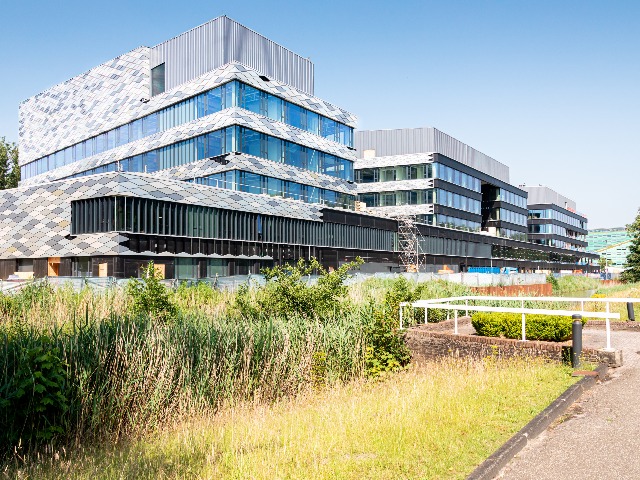 The University of Groningen (UG) sees the development of open science as one of its priorities for the next 5 years. In this series of interviews, we explore the status of open science at the different UG faculties. This time: the Faculty of Science and Engineering.
Professor Joost Frenken (JF) recently, as of July 1, 2022, started as the Dean of the Faculty of Science and Engineering (FSE). His research focuses on fundamental physical and chemical research on applied semiconductors, especially the deposit and evolution of nanolayers.
Sonja Billerbeck (SB) is Assistant Professor in the field of molecular microbiology. Her research revolves around biochemistry, biotechnology & (applied) molecular (micro) biology. She is Open Science ambassador at FSE.
Prof. Frenken, you started in your position as Dean eight months ago. What are your experiences so far in terms of open science and what are the differences with other institutions that you have worked at?
JF: I was very pleased by how the University of Groningen and the Faculty of Science and Engineering apply open science principles. I saw the statistics of open access publications for the university, including those of our faculty, and I would say we are really at the end of the growth curve. Only a small percentage is still closed access. I see that other institutions are still between 80-90%, while we are well above 90%. I also see a lot of awareness concerning open data at FSE, but I also see that elsewhere. It's difficult to assess whether other facets of open science are systematically done differently at FSE.
Why is open science important at the Faculty of Science and Engineering?
JF: I think for several reasons. The simplest reason being that one of our biggest products, alongside the people we educate and train, is the knowledge that we generate - what we publish. It would be silly to make this knowledge hard to find or hard to access. If we do not open up that knowledge, we would do a disservice to ourselves and our productivity. Another, more ethical reason, is that we have been paid by the public to do our research. We therefore owe it to the public to make that work accessible as well.
SB: I couldn't agree more in terms of the importance of open science. As scientists we want to contribute our puzzle pieces to the bigger picture. If our results are somewhere hidden behind a paywall, what are we even doing?
I think every scientist loves to publish open access. The reason we haven't done it before is its price tag. As an early career researcher I have a limited research budget and I think consciously about how to invest this. For example, you can spend 10€K on article processing charges for an open access Nature publication, but I would rather spend that amount of money on my next research plan. I am very happy with the Journal Browser which allows me to find journals in which I can publish open access without costs or with a discount, thanks to the publisher deals made by the Universities of the Netherlands (UNL).
What is the current state of affairs in terms of open science at FSE?
JF: Besides our interest in open access, open data is definitely something that we as a faculty pay attention to. Although I don't have a very detailed insight into individual cases, my impression is that there are big differences between institutes and research groups regarding data management. In many cases, data sharing is still in its infancy. To give an example: when scientific publications are published together with tables and plots, ideally, researchers should publish the original data and the procedures needed to convert those data into the publication plots and tables. This is not always done. With regard to other elements of open science such as open education, I think many people find it uncomfortable to share their teaching materials and recordings of their teaching performance. I would like everyone to record their lectures, and at least make it available to the students who take that course.
SB: As far as I know, there is nothing formalized about open education. I do understand the uncomfortable feeling when it comes to sharing teaching materials though. It's not that, as a teacher, I don't want to share my materials, but it puts a lot of pressure on teachers I think. Luckily, there are already a lot of textbooks and other educational materials openly available to students. I think free access to study material and textbooks is the most important here.
Which objectives do you want to achieve in the upcoming two years with regard to the implementation (or further implementation) of open science?
JF: I would definitely want to focus on the data management aspect as this is the way to go. We need to make sure that we increase the number of FSE publications that have open data, and also the quality of the data that is offered in this way. Hopefully, in the end, it will be something which is sort of standardized and so engraved into our system that it is simply part of our daily modus operandi. The only thing that staff would need to do is to check that all (PhD) students are including their data in their publications as well.
Another objective is to establish some kind of open access fund to prevent successful research groups from going bankrupt due to high article processing costs. For instance, if a research group has a streak of successes and their papers are accepted for publication in glossy and more expensive journals like Nature or Science, I would find it a good idea to have a fund, either university-wide or faculty-wide, out of which we can support their publishing choices. For example, each research group covers the publication charges up to a certain threshold, but everything beyond this threshold - basically the token of success - will be financed from the fund.
What obstacles and challenges do you expect in achieving these objectives, and how will you overcome them?
JF: I think the challenges lie in educating all staff and students in the faculty and the way we can encourage staff to engage in open science. Rewarding open science endeavors will help to overcome the feeling of loss, which a lot of staff members still have when they release data sets. This is a cultural thing, which will change within one generation, hopefully.
SB: I completely agree. The workload to comply with open science principles is quite high; it would be great if, for instance, data management requirements could be at least rewarded or integrated somehow in the conditions for promotion of academics. For example, instead of committee work or administrative work we could learn more about data management. At FSE, we have a lot of different types of data and each field requires different expertise. How to report, for instance, if you have microscopy data? And how do you make sure you archive data in a FAIR way? Providing data management training and creating an incentive for investing in data management would be welcome.
I'd like to add one other point here that we haven't discussed yet. There is an aspect of entrepreneurship and patenting, depending on the field. I think this is a point that might hold people back from doing open science.
JF: In my opinion it is well possible to combine patenting and applications with open science. The only thing that can happen in the context of patenting and applications is that you play a little bit with the timing, by delaying the publication or the submission date of your article. But once you submit the article, the data should be made accessible. Reviewers should be able to look at the data immediately.
Recognizing and rewarding open science practices is an important part of the culture shift towards open science. How do you want to change the reward and recognition of open science practices?
SB: To me, it is about recognizing that it takes a lot of time and leadership. It is not easy to push your PhD students to do FAIR data management as it also takes them a lot of time as well as knowledge. I completely recognize its importance, but also see we tend to be more excited about generating the data than perfectly depositing them. But I think it is really important and it will lower my stress level as a researcher.
In order to recognize the time it takes to perform these tasks, it could be a good idea to replace some committee work or maybe lower our teaching load. Of course I realize this is hard to do. But these practices should be at least recognized, they should be part of a promotion interview. Being able to show that I implemented this would be an incentive to think about it, do it and learn from each other.
JF: I like the idea of rewarding open science by substituting it for other tasks. But instead of trading it for committee work and teaching, the easiest trade off may be with publication pressure. For example, instead of eleven publications we could encourage staff to publish ten that include a thorough data package that is openly accessible. Something like this would be easy for a promotion committee to handle, because that is a trade-off that you can easily make visible.
SB: That is a great suggestion. Especially if we could make it more explicit in, for example, self evaluation documents that staff need to write for their promotion. Staff could be asked to describe why open science practices are important, and how much time they invested. It could be a point of reflection in the R&O form.
JF: Yes, that would nicely fit the transitional phase we are currently in. I think ten years from now, we won't even think about this anymore, because it is going to be so natural that you don't have to figure out what the best way is to make your data accessible or structure everything in such a way that everybody will be able to find it or use it. There will be standardized ways to do these things.
About the author
Giulia Trentacosti and Marjan van Ittersum
Giulia Trentacosti is the open access and scholarly communication specialist at the University Library and pillar leader for the Open Access pillar in the Open Science Program of the University of Groningen.
Marjan van Ittersum is assistant and deputy program manager of the Open Science Programme of the University of Groningen