Open Access Publication in the Spotlight (May) - 'Data-driven Measures to mitigate the Impact of COVID-19 in South America'
| | |
| --- | --- |
| Date: | 26 May 2021 |
| Author: | Open Access Team |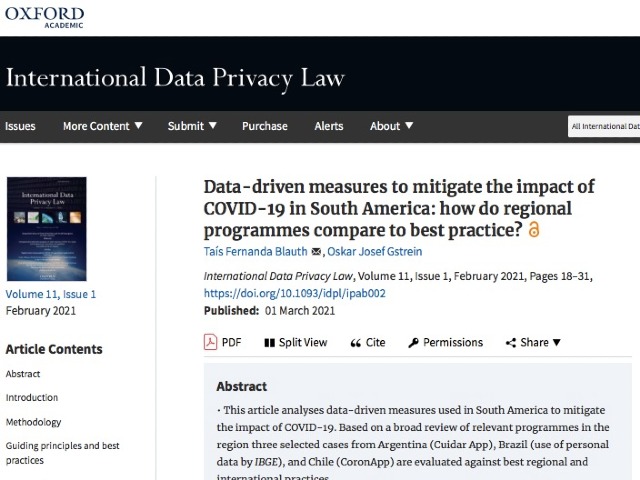 Each month, the open access team of the University of Groningen Library (UB) puts a recent open access article by UG authors in the spotlight. This publication is highlighted via social media and the library's newsletter and website.
The article in the spotlight for the month of May 2021 is titled Data-driven measures to mitigate the impact of COVID-19 in South America: how do regional programmes compare to best practice?, written by Taís Fernanda Blauth and Oskar Gstrein (both from the Data Research Centre at Campus Fryslân).
Abstract
This article analyses data-driven measures used in South America to mitigate the impact of COVID-19. Based on a broad review of relevant programmes in the region three selected cases from Argentina (Cuidar App), Brazil (use of personal data by IBGE), and Chile (CoronApp) are evaluated against best regional and international practices.
Our findings suggest that programmes in South America mirror approaches in other global regions and as such face many similar challenges. There is no clearly defined purpose, a lack of transparency, and the need for readjustment soon after initial development.
While the region is heavily affected by COVID-19, the three case-studies analysed demonstrate that policy makers in the region failed to establish trust in the measures. This can be deducted from low penetration rates of the programmes in Argentina and Chile.
Finally, there are serious concerns regarding the long-term impact of these programmes upon human rights (especially privacy) and human dignity.
We asked first author Taís Fernanda Blauth a few questions about the article:
This article was published open access, was open access a deliberate choice?
Yes, it was. As soon as our paper was accepted, we started investigating how we could publish it open access. We received support from the Open Access (OA) team at the University Library, who helped us throughout the whole process.
Does Campus Fryslân encourage open access publishing? If so, in what ways?
Our Faculty, Campus Fryslân, encourages open access publishing and is open to supporting extra costs associated with such publications. In addition, our OA Ambassador (Matt Coler) is available to give us any support when needed.
Could you reflect on your experiences with open access and open science in general?
This was my first OA publication, but I plan to publish all of my future papers OA as well. In my opinion, OA has an important role in facilitating access to academic research for a broader audience, especially for those who would not be able to have access to it otherwise. Coming from the Global South, I experienced first-hand the difficulties posed by journal's paywalls during my Bachelor's degree. I am glad that now, during my PhD in the Netherlands, I have the opportunity to publish OA.
For this article, you analyzed three South-American data-driven programmes to mitigate the impact of the pandemic, including two apps, you compared them against best practice. Have you also followed the developments around the Dutch app CoronaMelder? How would it compare against best practice?
Even though we did not analyze the CoronaMelder app, we have been following its developments. There are two main things to consider when it comes to CoronaMelder.
The first is related to the effectiveness of contact tracing apps. As we briefly discussed in the paper, previous research shows that, for the app to be effective, it is necessary that a considerable part of the population uses it. If that is not the case, manual contact tracing is still required. In the Netherlands, only around 30% of the population is using the app.
The second is about the app's architecture. The apps we analysed adopted a "centralised approach" at the time of the analysis. This means that governmental authorities manage the data collected through the app. Such an approach raises concerns about data protection and the storage of sensitive information (as in the case of Argentina, analysed in the paper). CoronaMelder, on the other hand, adopts a "decentralised approach", in which the user's device is the main point of data processing and analysis. This approach minimises the amount of personal data collected and reduces the possibility of harm in case of a data breach. Thus, in this aspect, the Dutch app follows the recommended practice.
Taís, your home country Brazil has been severely affected by the coronavirus. What is it like to follow these developments in Brazil from far away?
It is not easy to follow the news from the Netherlands. Since the beginning, I have been constantly worried about my family and friends while at the same time feeling powerless, given that there is not much I can do to help them during these difficult times. But I have always kept my hopes up! I strongly believe that vaccination will alleviate the current situation, making it possible for me to travel back home to spend some time with my family.
Useful links:
The University of Groningen has open access ambassadors at each faculty, they can assist you if you have open access questions specific to your discipline.
openaccess rug.nl: ask all your open access-related questions to the library's open access team
Citation:
Taís Fernanda Blauth, Oskar Josef Gstrein, Data-driven measures to mitigate the impact of COVID-19 in South America: how do regional programmes compare to best practice?, International Data Privacy Law, Volume 11, Issue 1, February 2021, Pages 18–31, https://doi.org/10.1093/idpl/ipab002
If you would like us to highlight your open access publication here, please get in touch with us.
About the author
Open Access Team
The Open Access team of the University of Groningen Library
Link:
/openaccess