Open Access Publication in the Spotlight (April) - 'The Human Corpse as Aesthetic-Therapeutic'
| | |
| --- | --- |
| Date: | 19 April 2021 |
| Author: | Open Access Team |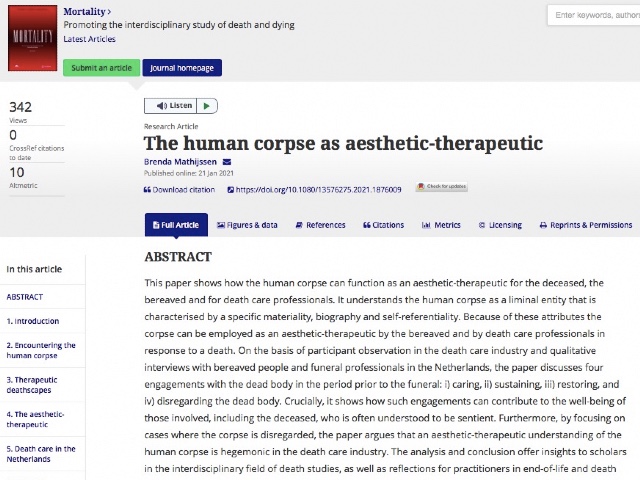 Each month, the open access team of the University of Groningen Library (UB) puts a recent open access article by UG authors in the spotlight. This publication is highlighted via social media and the library's newsletter and website.
The article in the spotlight for the month of April 2021 is titled The human corpse as aesthetic-therapeutic, written by Brenda Mathijssen (Faculty of Theology and Religious Studies).
Abstract
This paper shows how the human corpse can function as an aesthetic-therapeutic for the deceased, the bereaved and for death care professionals. It understands the human corpse as a liminal entity that is characterised by a specific materiality, biography and self-referentiality. Because of these attributes the corpse can be employed as an aesthetic-therapeutic by the bereaved and by death care professionals in response to a death. On the basis of participant observation in the death care industry and qualitative interviews with bereaved people and funeral professionals in the Netherlands, the paper discusses four engagements with the dead body in the period prior to the funeral: i) caring, ii) sustaining, iii) restoring, and iv) disregarding the dead body. Crucially, it shows how such engagements can contribute to the well-being of those involved, including the deceased, who is often understood to be sentient. Furthermore, by focusing on cases where the corpse is disregarded, the paper argues that an aesthetic-therapeutic understanding of the human corpse is hegemonic in the death care industry. The analysis and conclusion offer insights to scholars in the interdisciplinary field of death studies, as well as reflections for practitioners in end-of-life and death care.
We asked Brenda Mathijssen a few questions about the article:
This article was published open access, was open access a deliberate choice?
Yes, it was. In my view open access publishing helps to make our research accessible to broad audiences, and it thus enables more people to engage with our work.
How common is open access publishing in your field/discipline? Are there enough open access publishing options available?
It is very common for articles in international journals, but less common for national journals and for publishing books (which are also very important in my field). An increasing number of large journals and publishers have an agreement with the VSNU, which makes open access publishing easy to arrange. At the national level, for Dutch-language journals, we also see developments in my field. For example, I'm one of the editors of the journal Religie & Samenleving, which is currently being transformed into an online open access journal. I would still like to see more options, but I can see that they are developing.
Could you reflect on your experiences with open access and open science in general?
In my experience, open access and open science are increasing the accessibility and therefore the visibility of one's research, particularly within the academic community. It also makes it easier to access the work of colleagues. This means that more researchers and students can engage with each other's work, and in my view this is good for academic debates and scholarship. Having good open access opportunities can also particularly benefit people from less wealthy institutions or countries, or those in more precarious positions.
I also have a point of critique/nuance though: In my experience open access in itself does not give the general public or professional audiences access to research. Academic publications typically must be translated into a different type of language in order to make them relevant and accessible to non-academic audiences.
Where does your fascination with this topic (death, dying and bereavement practices) come from?
I have always been interested in human behaviour and existential meaning-making: What does it mean to be human? And how do people make sense of their lives and the worlds in which they live? During my studies, I learnt that the topic of death gives me access to those types of questions. Through the lens of death, we can thus study a wide variety of human experiences.
Do you prefer Six Feet Under or The Walking Dead?
Six Feet Under, definitely. That series is so funny and well written, and I'm not a zombie person. Six feet under is full of cliché quotes and jokes about death, the sort of cheesy jokes that make me smile during the day (or during my own fieldwork research), but that also are very moving. But I guess it is especially the characters of the Fisher family that stick with you. So: much recommended for those who have not seen it yet
Useful links:
A recent interview with Brenda Mathijsen in which she talks about funerals in times of corona (in Dutch).
University of Groningen Press: supports editors and authors in starting and publishing digital academic journals or books. UGP can also support the transition of a closed journal to an open access journal.
Journal browser: search engine that can be used to check if an APC discount is available for a specific journal. UG corresponding authors can publish with an APC discount (mostly 100%, so for free) in more than 12.000 journals!
Citation:
Mathijssen, B. (2021). The human corpse as aesthetic-therapeutic. Mortality, 1–17. doi:10.1080/13576275.2021.1876009
If you would like us to highlight your open access publication here, please get in touch with us.
About the author
Open Access Team
The Open Access team of the University of Groningen Library
Link:
/openaccess