Schedule
The construction of the Feringa Building will proceed in phases:
Phase 1 | Sections D-E-F
Building Phase 1 (sections D-E-F) will be the first to be completed. These sections will be ready for use in mid-2022.
Moving
Staff from buildings 5117 and 5118 of Nijenborgh 4 are the first into Phase 1.
Demolition of building 5118
Demolition of building 5118 can start after the relocation of staff from buildings 5117 and 5118.
Phase 1B | Sections B-C
Work on the next building sections B-C (Phase 1B) will start during Phase 1. The equipment follows the commissioning of D-E-F.
Phase 2 | Sections A
As soon as building 18 is demolished, the construction of phase 2 (building section A) can be started.
More details about the construction and relocation planning will follow later.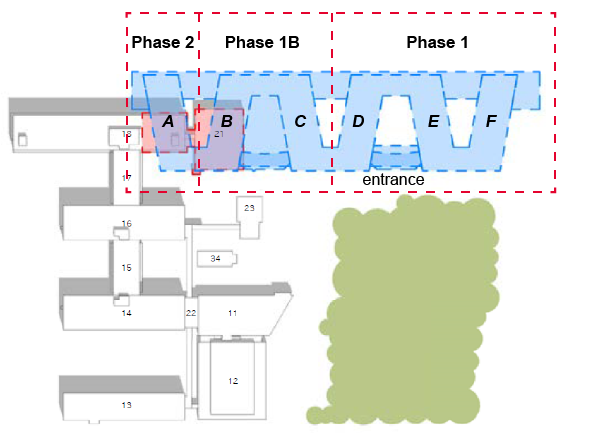 Green park
Then all old buildings will be demolished. A green park will be created in front of the building.
____________________________
Groundbreaking Work
@University of Groningen
| | |
| --- | --- |
| Last modified: | 06 October 2020 09.39 a.m. |