AI and human discomfort
Knowledge exchange and networking event on artificial intelligence | 29 October 2019, Groningen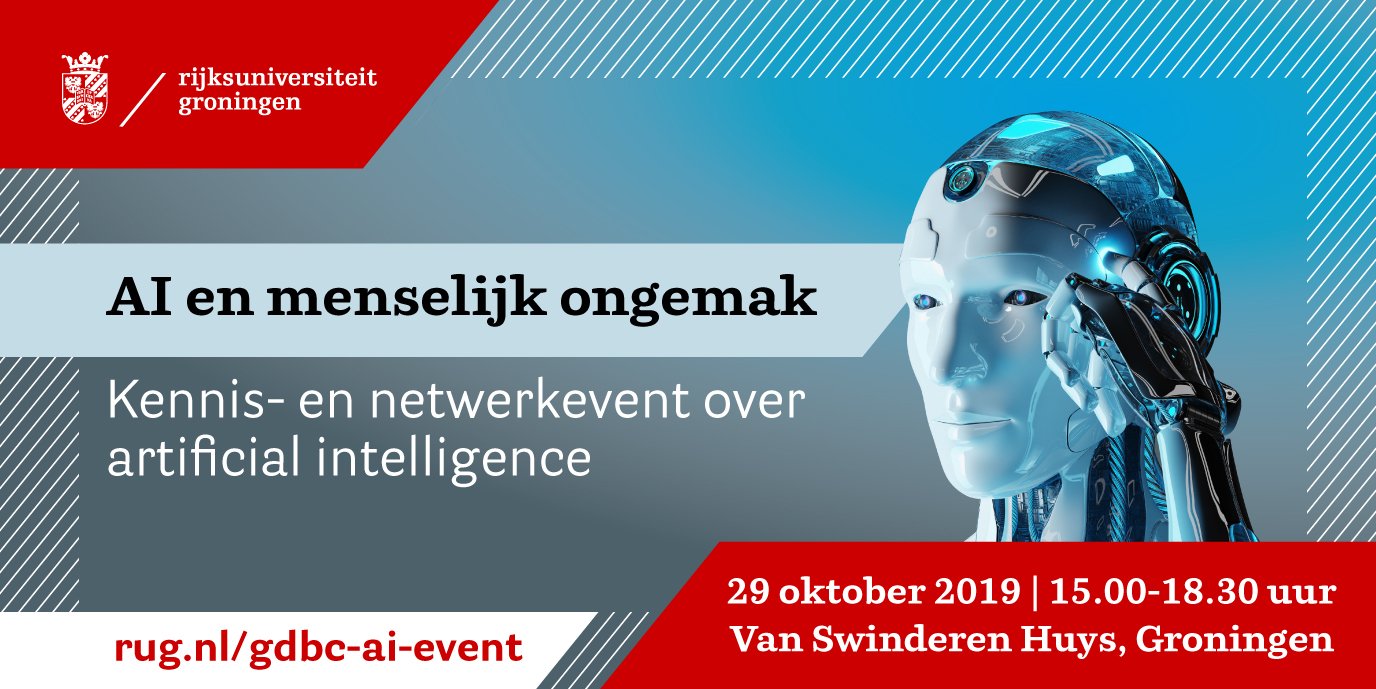 How do you feel about artificial intelligence (AI)? It is increasingly common for people to wonder whether the advantages of this development really outweigh its dark side. A widespread sentiment in society is discomfort at the idea of machines 'taking over'. Do you recognize this feeling in your professional life, whether from your clients, your colleagues or your staff members? How do you deal with it?
The Groningen Digital Business Centre (GDBC) cordially invites you to a knowledge exchange and networking event titled 'AI and human discomfort' on Tuesday 29 October 2019 from 3 p.m. to 6.30 p.m. in Groningen.
The keynote speaker will be 'trend-watcher' Jarno Duursma , and there will be an interactive panel discussion comprising representatives from academia and business. This will be followed by a drinks reception, offering opportunities to continue the discussion, as well as a number of AI demonstrations.
Details
What : GDBC knowledge exchange and networking event
For : digital businesses within and outside the GDBC's network, academics, FEB alumni and UG staff and students
Theme : 'The relationship between artificial intelligence and human discomfort'
Speakers : Jarno Duursma, Jenny van Doorn, Frido van Driem
Date and time : Tuesday 29 October 2019 from 3 p.m. to 6.30 p.m. (including a drinks reception)
Language : Dutch
Venue : Van Swinderen Huys , Groningen city centre
Tickets : free for GDBC sponsors, FEB alumni, donors, University of Groningen staff and students. Other guests: € 15 p.p.
Registration
Register now! There are a limited number of places available.
Programme
| | |
| --- | --- |
| 3 p.m. | Welcome with tea and coffee |
| 3.30 p.m. | Opening and update on the GDBC from the Centre's director Tammo Bijmolt and project leader Bas Baalmans |
| 3.45 p.m. | Presentation, Jarno Duursma: 'The relationship between artificial intelligence and human discomfort' |
| 4.45 p.m. | Break – submit questions for the panel discussion |
| 5 p.m. | Panel discussion (Jenny van Doorn, Frido van Driem, Domenique van der Niet, Jarno Duursma) |
| 5.30 p.m | Drinks reception, information fair, AI demonstrations |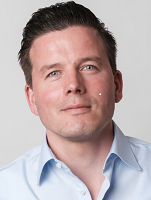 Keynote speaker
Jarno Duursma is a 'trend-watcher' and TEDx speaker. He has written books on digital technology, artificial intelligence and blockchain. Jarno regularly appears in the national media and writes opinion pieces for newspapers including Het Financieele Dagblad, NRC and de Volkskrant. He founded and spent several years as an organizer of TechEvent SMC050. At the GDBC on Tuesday 20 October, Jarno will talk about the discomfort which AI causes to some people. He will discuss how we can get to grips with this and how we should think about the 'digital butler' who is always ready for us to call upon – is it a curse, or a blessing?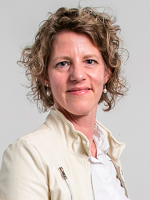 Panel members
Jenny van Doorn is Professor of Services Marketing at the Faculty of Economics and Business at the University of Groningen. Her research examines topics including the use of technology in providing services, especially the use of robots and AI, and how customers react to these kinds of new technology. Her work has been published in the Journal of Marketing, the Journal of Marketing Research, the Harvard Business Review, the Journal of the Academy of Marketing Science and the Journal of Service Research.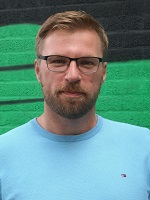 Domenique van der Niet has been a tech entrepreneur since the turn of the millennium, with a background in business administration and IT. His strength is in translating the possibilities that AI offers into practical applications. For him, humans are central to this. As the director of Humain'r, he will speak about his recent experiences of introducing AI to call centres. Alongside media company Messor in Drachten and the Groningen Digital Business Centre, he has found the ideal combination of people, machines and organization. AI takes work out of people's hands, leaving them with more time and space for the human aspect of work.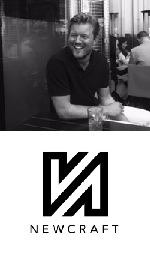 Frido van Driem is an alumnus of FEB. He is the Digital Growth Lead at NEWCRAFT , a company that supports organizations in their digital acceleration. Frido has over a decade of experience in the internet sector. He started his career at the Alibaba Group in Hangzhou (China) and since then, has been active in various startups including ZEEF.com and The Talent Institute. During the panel discussion, Frido will talk about his own experiences of the impact that AI has on organizations and the skills that will be necessary for businesses to survive the next industrial revolution.
FEB: A business partner for your organization
Did you know that the Faculty of Economics and Business (FEB) also offers solutions for businesses and organizations, such as applied research , head-hunting young talent and courses for professionals ?

Representatives of FEB for Business will be present at the networking event on 29 October.
Tailor-made research
The Groningen Digital Business Centre is one of 12 centres of expertise at the FEB. These centres work closely with businesses on subjects such as logistics, energy, leadership, governance, marketing, digital business and more.
Teaching: Business School
In the field of lifelong learning, the FEB's Business School runs accredited Master's degree programmes and executive courses at locations around the Netherlands. Short executive courses can be delivered at company locations if desired. The subjects of these programmes and courses are closely related to FEB's expertise. Alongside the Executive Master's degree programme in Mergers & Acquisitions and Valuation, the Executive MBA and the executive courses for registered accountants and registered controllers, the Business School offers programmes and executive courses on Digital Transformation, Top HR Leadership, Health Economics & Health Care Management, the Energy Transition, Environmental, Social & Governance Assurance and Data Science.
---
Find young talent
FEB has a strong reputation for training talented economists and business administration specialists for organizations around the world. If you are looking for a motivated intern, a young professional who will fit into your organization or a team of student consultants to look at your business case and provide new insights, FEB can help you find them.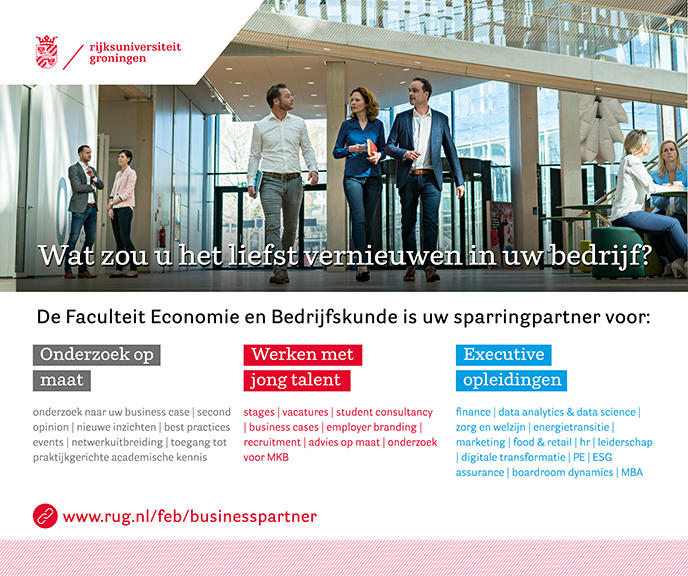 | | |
| --- | --- |
| Last modified: | 30 November 2020 11.22 a.m. |