Personal impact by educating
Anyone who wants to, can help build a (Northern) Netherlands where as many people as possible grow old healthily. The Aletta movement already consists of a large diversity of people and organisations, each with their own perspective on health. Elena Agachi, Research Master student at the University of Groningen, is one of them. She shares what she hopes Aletta will achieve, together with her.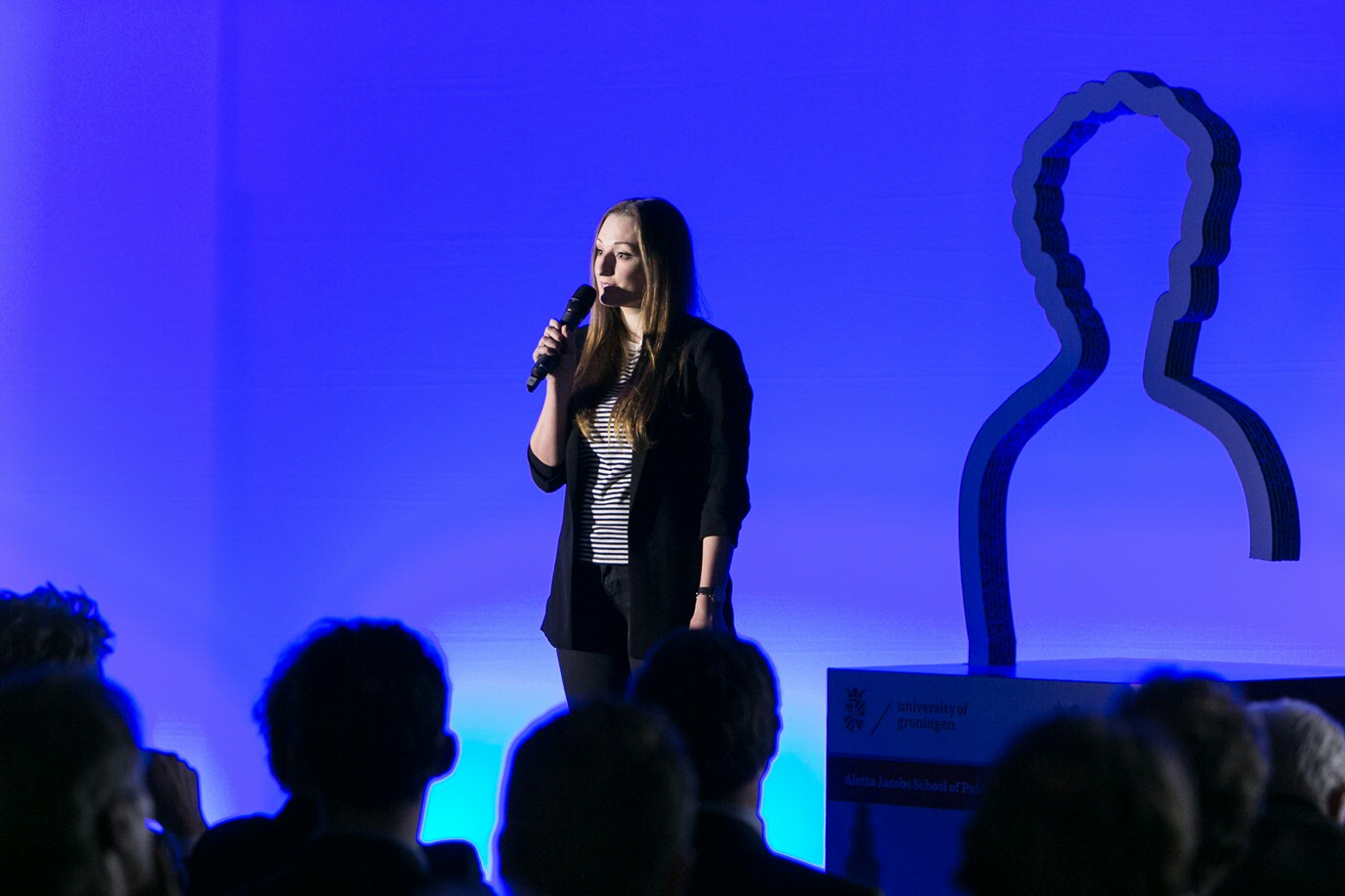 "While deciding on my life-path, I was drawn by two big passions: mathematics and health.
When I was born, my mother was doing her PhD in Medicine. By the age of three, I could recite by heart whole pieces of her thesis, which seemed to amuse people a lot. But apart from being funny, it was a big part of my childhood. I often used to sit through my mother's lectures or go over her patient files together with her.
Moreover, her background reflected a lot on the lifestyle of my whole family: a healthy diet and exercise was our daily routine. While health was very important to me, and a big part of my life, it was also something that I felt to be too familiar with. Trying to discover my own interests and defining my own self, I started exploring other domains, which is where mathematics got me.
Perhaps because I was good at it, or perhaps because I wanted to do something that was new in my family, I became drawn into the analytical world. Therefore, when deciding which degree to pursue, I chose for econometrics. Nevertheless, the passion for health has always remained a big part of me."
---
"After finishing my high school back home, in Moldova, I decided to come to Groningen, to the Faculty of Economics and Business, which is where I pursued my bachelor's and master's degrees in econometrics. I chose Groningen because of its strong presence in the health economics sector.
Coming across the health economics side of our faculty was nothing less than an eye-opener. Working in this area lets me combine my passion for hard numbers with my innate caring nature for social issues like public health.
I hope to carry on working on health-related topics, and this is where Aletta can open new doors for me. Having the chance to collaborate with the various stakeholders in the field creates amazing opportunities. Also, this allows research to keep on track with reality and work directly on implementing findings from which entire communities can benefit. This is Aletta's giving and taking potential. And besides that, she promises to be a source of knowledge and connection that delivers a community which together can achieve a lot more than its individual parts.
I believe in Aletta as the innovative movement that enables us to help each other by challenging reality and working on future needs. I want to be a part of this movement, and I hope that you will join me."
| | |
| --- | --- |
| Last modified: | 05 July 2019 08.27 a.m. |