Symposium Collectieve Gezondheidsdoelen
Wanneer:

do

20-05-2021 13:30 - 15:30
Waar:

http://meet.google.com/ofv-spxg-vvo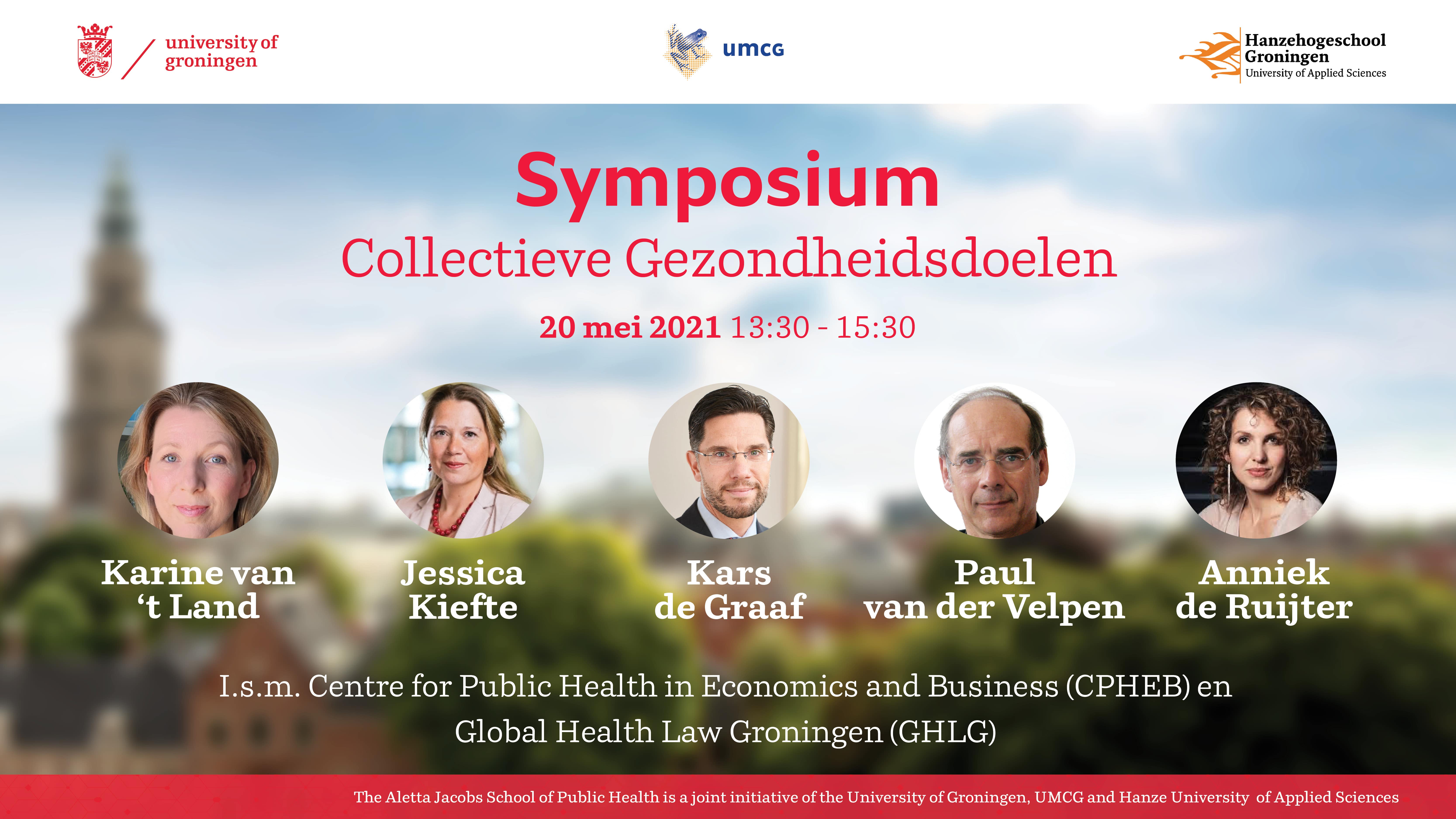 Tijdens dit online symposium kijken we vanuit verschillende perspectieven naar wettelijk verankerde streefwaarden voor de volksgezondheid, analoog aan de milieuwetgeving. Aanknopingspunten hiertoe zijn te vinden in internationale en nationale beleidsafspraken, zoals de Duurzame ontwikkelingsdoelen en het Nationaal Preventieakkoord. Wettelijke verankering is minder vrijblijvend en biedt een mogelijkheid om de overheid ter verantwoording te roepen.
Dit symposium wordt georganiseerd door de AJSPH, CPHEB en GHLG , naar aanleiding van het stuk van Brigit Toebes en Jochen Mierau in het Tijdschrift voor Gezondheidswetenschappen.
Vijf experts zullen naar aanleiding van het stuk een inleiding geven van 10 minuten. Daarna zal er een paneldiscussie plaatsvinden onder leiding van Brigit Toebes.
Panelleden
Karine van 't Land – Menzis
Karine van 't Land is zorgexpert Leefkracht bij Menzis en arts Maatschappij + Gezondheid i.o. aan het Amsterdam UMC, afdeling Public and Occupational Health. Zij coördineert en doceert aan de minor medisch leiderschap voor medisch studenten aan het Radboudumc.

Jessica Kiefte - LUMC/Campus den Haag
Prof.dr. Jessica Kiefte-de Jong is hoogleraar Population Health aan het Leids Universitair Medisch Centrum en hoofd wetenschappelijk onderzoek binnen het LUMC-onderzoeksprogramma Prevention, Population Health and Disease Management. Haar onderzoek richt op het identificeren van hoog risico groepen, met als doel het aanbieden van gerichte preventie- en leefstijlinitiatieven. Hierbij kijkt zij naast voeding en leefstijl ook naar de bredere context van (patiënten)populaties zoals de invloed van financiële stress en de voedsel- en leefomgeving van de wijk.

Kars de Graaf - RUG (Rechten)
Kars de Graaf is hoogleraar Bestuursrecht en duurzaamheid en is sinds 1999 verbonden aan de vakgroep Staatsrecht, Bestuursrecht en Bestuurskunde van de Faculteit Rechtsgeleerdheid van de RuG. Zijn onderzoek richt zich onder meer op het (omgevings)recht dat relevant is voor de transitie naar een duurzame samenleving.

Paul van der Velpen - voormalig vz. van verschillende GGDen (o.a. Amsterdam)
Paul van der Velpen (socioloog) was jarenlang actief als adviseur en interimmanager in de non-profitsector. Inmiddels is hij meer dan 20 jaar actief in de publieke gezondheidszorg, eerst als directeur van GGD Hart voor Brabant en van 2008 tot 2017 als directeur van GGD Amsterdam. Was toen o.a.betrokken bij de start van de Amsterdamse Aanpak Gezond Gewicht. Is gepensioneerd maar nog actief als adviseur, coach en docent. Hij schreef het boek "Het preventie-ultimatum" (2018).

Anniek de Ruijter - UvA (Rechten)
Anniek de Ruijter (LLM, PhD) is universitair hoofddocent Gezondheidsrecht en beleid aan de Faculteit der Rechtsgeleerdheid van de Universiteit van Amsterdam. Anniek is co-directeur van het LCHL, directeur van de Amsterdam Law Practice, lid van het bestuur van het Amsterdam Institute for Global Health and Development (AIGHD). Anniek onderzoekt het grensvlak tussen recht en gezondheid, waarbij digitalisering, globalisering, Europeanisatie en leefomgeving centraal staan.
Programma
| | |
| --- | --- |
| 13:30 | Introductie Jochen Mierau |
| 13:35 | Presentatie Karine van 't Land |
| 13:45 | Presentatie Jessica Kiefte |
| 13:55 | Presentatie Kars de Graaf |
| 14:05 | Presentatie Paul van der Velpen |
| 14:15 | Presentatie Anniek de Ruijter |
| 14:25 | Pauze |
| 14:35 | Paneldiscussie o.l.v. Brigit Toebes |
| 15:25 | Afsluiting |