Studenten aan de slag met complexe Healthy Ageing vraagstukken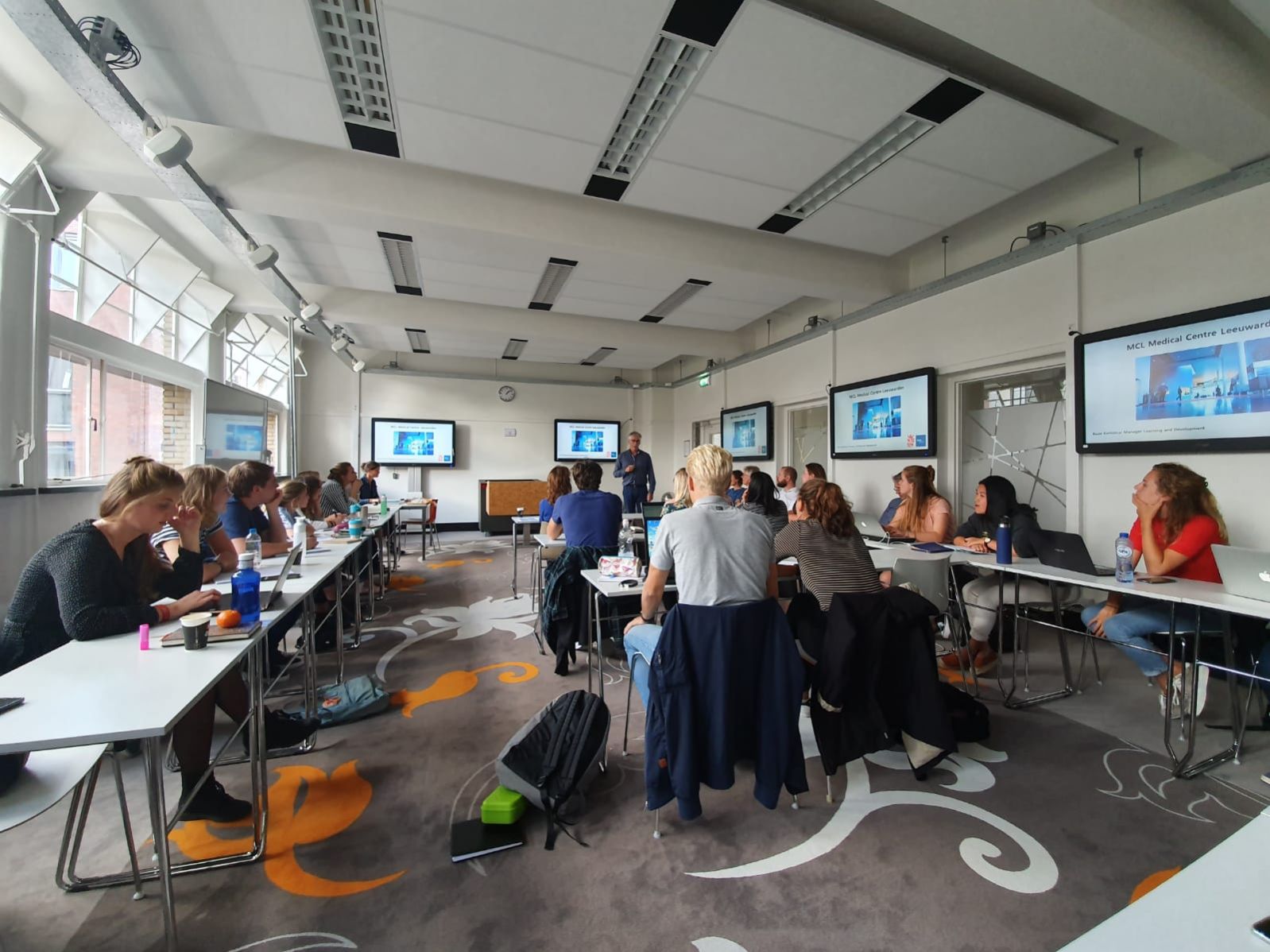 Studenten van verschillende Bacheloropleidingen zijn deze week gestart met de nieuwe Minor 'More Healthy Y​ears' van de Aletta Jacobs School of Public Health. Het komende semester gaan ze in multidisciplinaire teams aan de slag met complexe vraagstukken op het gebied van Healthy Ageing. Voor het UMCG zetten de studenten hun tanden in de vraag hoe je een leefomgeving kunt creëren die gunstig is voor een gezonde levensstijl.
Mensen worden steeds ouder en dat heeft gevolgen voor onze samenleving. Zorgkosten stijgen en dat betekent dat we op een andere manier moeten nadenken over ons zorgsysteem. Hoe kunnen we (chronische) ziektes voorkomen en ervoor zorgen dat mensen meer gezonde jaren tegemoet gaan?
Complexe vraagstukken
Bovenstaande is een bekend verhaal: Healthy Ageing is al jaren een speerpunt in Noord-Nederland. Nieuw is echter dat deze week de Minor 'More Healthy Years' is gestart om studenten alles te leren over gezonder oud worden, ons zorgsysteem en de uitdagingen die we hebben voor de komende jaren. Én die studenten uit de meest uiteenlopende vakgebieden uitdaagt om met frisse ideeën te komen om complexe zorgvraagstukken op te lossen.​
Vernieuwende Minor
Universitair hoofddocent Joke Fleer: 'Zowel inhoudelijk als onderwijskundig is dit een vernieuwende Minor. Inhoudelijk, omdat studenten van alle opleidingen zich voor het eerst in gezamenlijkheid verdiepen in het speerpunt Healthy Ageing. En onderwijskundig, omdat we in kleine groepen aan de slag gaan met daadwerkelijk bestaande complexe vraagstukken van verschillende noordelijke opdrachtgevers. Ook vernieuwend is dat studenten leren werken volgens de methode van Design Thinking: een methode die speciaal ontwikkeld is voor het oplossen van complexe vraagstukken. Met deze methode doen ze eerst uitgebreid breed onderzoek, vanuit verschillende invalshoeken. Vervolgens zoomen ze in op een onderdeel van het probleem waarvan de studenten zelf denken: hier kunnen we impact hebben.'
Meer gezonde jaren
De studenten gaan aan de slag met vraagstukken van GGD Fryslân, het UMCG en het MCL. Overkoepelend thema: Meer gezonde jaren. Hoe kunnen we mensen helpen gezonder oud te worden, langer zelfstandig thuis te laten wonen en een gezonde leefomgeving creëren?
Meer weten en op de hoogte blijven? Bekijk de video over de Minor en volg Aletta Jacobs School of Public Health op Twitter.​

De ontwikkeling van de minor wordt gefinancierd vanuit de studievoorschotmiddelen (RUG), aangevuld met een additionele bijdrage van het UMCG.
Over Aletta
De Aletta Jacobs School of Public Health is een samenwerkingsverband tussen de Rijksuniversiteit Groningen, het UMCG en de Hanzehogeschool Groningen en is de trotse vaandeldrager van healthy ageing in Noord-Nederland. De AJSPH is een netwerk van researchers en partners met één gezamenlijk doel: meer gezonde jaren. Meer weten? Kijk op www.rug.nl/aletta.​
Dit nieuwsbericht verscheen oorspronkelijk op de UMCG website.