Brigit Toebes nieuwe wetenschappelijk directeur Aletta Jacobs School of Public Health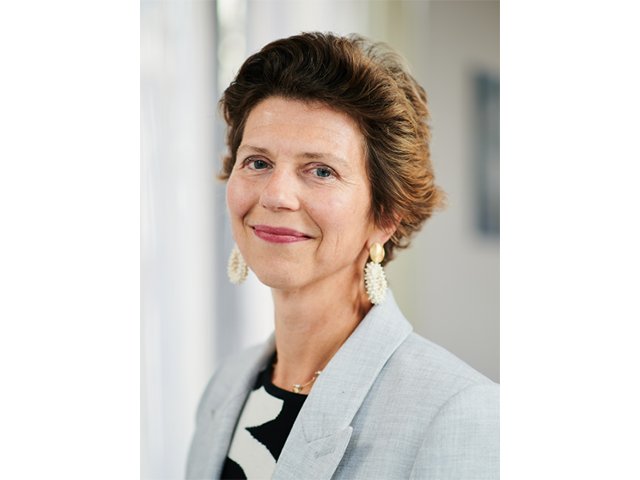 Op voordracht van het College van Bestuur van de Rijksuniversiteit Groningen (RUG) is Brigit Toebes per 1 september 2022 de nieuwe wetenschappelijk directeur van de Aletta Jacobs School of Public Health (AJSPH). Toebes, hoogleraar Gezondheidsrecht in Internationaal Perspectief, volgt Jochen Mierau op, die in februari aankondigde te vertrekken.
De AJSPH is erg blij met de komst van Toebes. Algemeen directeur Frederic van Kleef: "We zijn erg verheugd over de benoeming van Brigit Toebes. Haar landelijke en internationale netwerk zijn buitengewoon relevant voor ons maatschappelijke doel van meer gezonde jaren. Daarnaast heeft ze zich de afgelopen periode met veel waardering van collega-onderzoekers uit andere faculteiten en instellingen ingezet voor de onderzoeks- en onderwijsinitiatieven van Aletta. Met haar aan het roer gaan we als School nieuwe wegen van impact maken. Daar ben ik zeker van."
Rector magnificus Cisca Wijmenga van de RUG sluit hierbij aan: "Brigit is iemand met zeer veel kennis in haar vakgebied. Ze heeft over de hele wereld gewerkt en onderzoek gedaan naar gezondheidsrecht en lang en breed haar kwaliteiten bewezen. Ik ben er dan ook van overtuigd dat ze de idealen van de AJSPH op het gebied van healthy ageing waar kan maken."
Over Brigit Toebes
Toebes blijft daarnaast als hoogleraar verbonden bij de Faculteit Rechtsgeleerdheid van de RUG. In die rol heeft ze meer dan 25 jaar ervaring in internationaal en nationaal gezondheidsrecht. Ze richt zich in haar werk onder meer op de reductie van ongezonde levensstijlen (roken en ongezond eten), de bestrijding van infectieziekten en de rol van het recht bij het terugdringen van gezondheidsverschillen. Brigit is een van de oprichters van het Groningen Centre for Health Law, dat onderzoekers van Rechtsgeleerdheid en Medische Wetenschappen huisvest en interdisciplinair gezondheids(recht)kwesties onderzoekt. Ook is ze lid van de Gezondheidsraad, een onafhankelijk wetenschappelijk adviesorgaan van de regering en het Parlement. Daarnaast is ze voorzitter van de Nederlandse Vereniging voor Gezondheidsrecht (VGR).
Bij de AJSPH is Toebes geen onbekende. Ze was betrokken bij de oprichting van het onderzoeksnetwerk in 2018 en sluit wegens haar expertise regelmatig aan bij congressen, lezingen en andere bijeenkomsten. Als directeur zal ze de spil zijn in de AJSPH, evenals het boegbeeld.
Over de AJSPH
De Aletta Jacobs School of Public Health – een samenwerkingsverband tussen de Rijksuniversiteit Groningen, het UMCG, de Hanzehogeschool Groningen en NHL Stenden Hogeschool – is de trotse vaandeldrager van healthy ageing in Noord-Nederland. Aletta brengt wetenschappers uit verschillende disciplines bij elkaar om via onderzoek, onderwijs en maatschappelijke samenwerkingen bij te dragen aan meer gezonde jaren, voor iedereen. Onder andere tijdens de coronacrisis speelde de AJSPH een cruciale rol in het in beeld brengen van de gevolgen van de pandemie en het aankaarten van een multidisciplinair en regionaal perspectief bij de ontwikkeling van het coronabeleid.