Bachelor - full-time
Information Science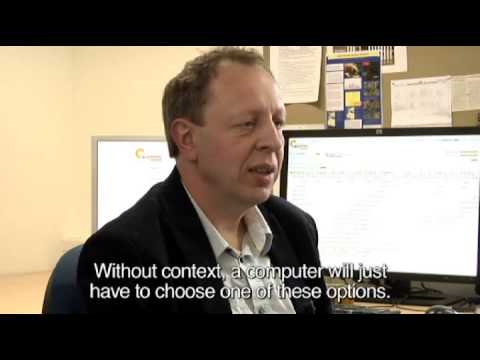 Opleidingsvideo
Programme movie
Student Hylke Postma over de studie Informatiekunde
Programme movie
Unifocus - Begrijpt de computer onze taal?
Programme movie
Testimonial tweedejaars CIW
"Bij Informatiekunde voel ik me als een vis in het water"
"Ik ben begonnen met Rechten (Recht & ICT), maar vond het toch geen studie die goed bij mij paste. Daarom ben ik na een goed gesprek met de studieadviseur overgestapt naar Informatiekunde en daar voel ik me als een vis in het water. Ik heb tijd nodig gehad om mijn eigen weg te vinden en dat is nu aardig gelukt. Op dit moment probeer ik naast mijn Bachelor Informatiekunde toch ook mijn Bachelor Recht & ICT te halen. Informatiekunde is een kleinschalige studie en dat past goed bij mij. De kleine groep studenten en het directe contact met docenten en studieadviseurs ervaar ik als prettig. De opleiding is gericht op computertaalkunde en webtechnologie en vooral dat laatste heeft mijn interesse. De grootste uitdaging bij deze studie is voor ogen houden waarom je bepaalde technieken krijgt aangeleerd. Vaak komen programmeervaardigheden een vak later van pas bij een opdracht of onderzoek. Ik hoop dat ik in de toekomst kan werken bij een klein of middelgroot bedrijf dat zich met ICT bezighoudt. Maar of ik daar als programmeur, manager of jurist aan de slag ga, zal de tijd leren. Als er een stad in Nederland geschikt is om een onvergetelijke studententijd te beleven, dan is het Groningen!"
Hylke Postema
Testimonial alumnus Informatiekunde
"De opleiding biedt naast een wetenschappelijke kant veel praktijk"
"Momenteel ben ik specialist Procesinrichting bij een callcenter. Wij bekijken bij alle wijzigingen voor het bedrijf, zowel voor de binnenkant als voor de buitenkant van de organisatie, wat de impact is voor de klant en de mensen op de werkvloer. Ook zorgen we ervoor dat de medewerkers de juiste informatie en middelen hebben zodat zij hun klantgesprek en/of werkwijze aan kunnen passen op deze wijziging. Al tijdens mijn studie begon ik bij deze werkgever. Mijn huidige baan kreeg ik door door te groeien binnen het bedrijf, maar het feit dat ik Informatiekunde studeerde heeft uiteraard meegeholpen. De opleiding is erg divers en biedt naast een wetenschappelijke kant veel praktijk. Dat is wat ik er zo leuk aan vond: ik ben iemand die sneller leert door dingen uit te voeren. Bij deze opleiding heb je vaak naast een verslag of tentamen ook een grote praktijkopdracht. Vooral het programmeren trekt mij erg aan, want ik houd van puzzelen. En Groningen vind ik echt een hele leuke stad. Het grote voordeel is dat er altijd wel ergens een kroeg open is, hoe laat of vroeg je het ook wilt maken!"
Claudia Hoogwerf
Close window
Previous quote
Next quote