Beyond the Stars. Voyage into deep space
27 May 2011 - 23 January 2012
Highlights in this exhibition are spectacular images of objects inside and outside our Milky Way Galaxy. Thanks to ultramodern satellites and telescopes visitors can see exoplanets, supernova's and mysterious galaxies. In an amazing show of moving images in the planetarium visitors will experience a virtual journey from Groningen into deep space.
The year 2011 is the Nasa Year of the Solar System. The exhibition will start with images of our solar system: Sun, Moon and planets, but the visitor will see much more: dunes on Mars, the Saturn moons Rhea and Titan and more surprising images.
The journey through our galaxy will reach its climax in huge colour images of deep space. The visitor will also see objects from the museum's own collection: the satellite ANS, which was the important first Dutch contribution to space exploration, and models of other satellites and telescopes are on display.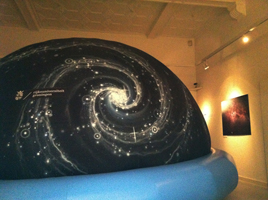 In the Kapteyn Mobile Planetarium visitors can take a tour of the stars.
| | |
| --- | --- |
| Last modified: | 29 March 2023 10.35 a.m. |