Humanity Hits
Highlights from our Special Collections
In our series Humanity Hits we present treasured items from our Special Collections by means of short film clips.
The Special Collections Research Room constitutes our Humanity Lab — the University Library's laboratory where humankind can be spread out like a patient etherised upon a table. Here we are keeping the monumenta humanitatis : the material evidence from ages of human civilisation. Studying this evidence provides knowledge of human beings, their ways of thinking and behaving over the past millennia. The world is changing constantly, but the essence of humankind decidedly less so. The study of this evidence therefore has present-day relevance, too. All books, maps, and other objects in our Special Collections are available for study, teaching, and research. Through these clips we are introducing a number of highlights. All clips have subtitles in English (optional).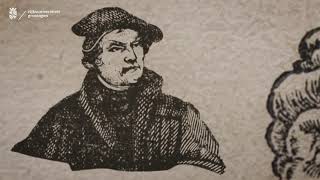 1. The Luther Bible
Martin Luther once held this book in his own hands. He wrote in it, too, in response to the printed text. Others after him followed suit. This book is an edition of the New Testament, translated into Latin by Erasmus of Rotterdam. He did not approve of the existing (Vulgate) translation and so, in 1516, he published a better one. In 1527, this fourth edition appeared in Basel. Luther bought a copy. This copy. This film clip tells us about the sparks flying in the margins of this book.
2. The Chronicle of Wittewierum
This book dates from the thirteenth century. It was written by the first man from Groningen whom we know personally: Emo of Huizinge. In 1213, he founded a monastery in Wierum. As its abbot, he affiliated the monastery with the order of the Premonstratensians, so that it enjoyed protection from the Catholic Church. Its monks wore white habits. Therefore, the place came to be called Wittewierum (White Wierum).
The monastery existed for some 350 years. It was dissolved in 1561. Abbot Emo called it Hortus floridus. He kept an annual record of the events in and around the monastery, often adding his reflections. Emo's second successor Menko continued this. This book by Emo and Menko shows us life in Frisia in the thirteenth century from the perspective of two eyewitnesses.
| | |
| --- | --- |
| Last modified: | 11 May 2022 12.11 p.m. |