News Depicted: Frontispieces of the Journal Europische Mercurius (1690-1750)
Exhibition University Library City Centre, Friday 26 November 2021 until Sunday 9 January 2022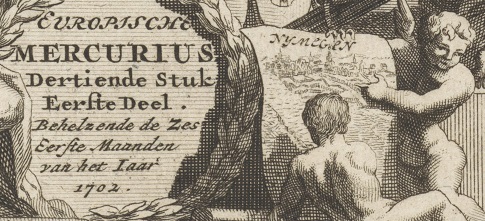 In the modest exhibition News Depicted, a selection of beautiful frontispieces from the journal Europische Mercurius was in the spotlight. These frontispieces were created by renowned artists such as Jan Luyken and Jan Goeree. All exhibited journals and books belong to the Special Collections of the Groningen University Library.
Frontispieces
In the past, books and magazines often opened with a print that referred to the subsequent contents: the so-called frontispiece. During the 17th and 18th centuries, the frontispiece of a book functioned in the same way as book covers do today. In the journal Europische Mercurius, which was published in book form, the frontispiece pictured all sorts of high-profile news items.
News Journal
The Europische Mercurius contained periodical summaries of the news based on previous reports in newspapers, pamphlets, letters and other documents. In the early-modern period, the Europische Mercurius was one of the best-known and longest-running news journals in the Netherlands.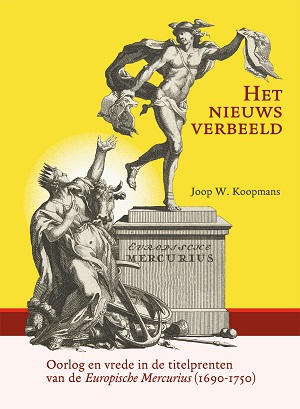 Reason for the Exhibition
In the summer of 2021, Joop W. Koopmans, associate professor of Early Modern History at the University of Groningen, published the book Het nieuws verbeeld: Oorlog en vrede in de titelprenten van de Europische Mercurius (1690-1750) [Representations of the News: War and Peace in the Frontispieces of the Europische Mercurius (1690-1750)]. In his book, Koopmans discusses the development of this journal and all of its sixty-one frontispieces. The book is the result of his research into the Europische Mercurius, which is held in the Special Collections of the University of Groningen Library.
Exhibition
News Depicted: Frontispieces of the Journal
Europische Mercurius
(1690-1750)
University Library City Centre
Stairwell , 3rd floor
Broerstraat 4
9712 CP Groningen
Friday, November 26, 2021 to Sunday, January 9, 2022
| | |
| --- | --- |
| Last modified: | 25 March 2022 10.52 a.m. |