DASH Webinar: How to get more out of your data
| | |
| --- | --- |
| When: | Tu 16-03-2021 19:00 - 20:30 |
| Where: | Online |
Data Science in practice - a UMCG case study
We produce more and more data. Even so, collecting data is only the starting point – how we use this data is the real differentiator. The next DASH webinar will discuss how you can make even better use of (research) data, on the basis of two UMCG case studies.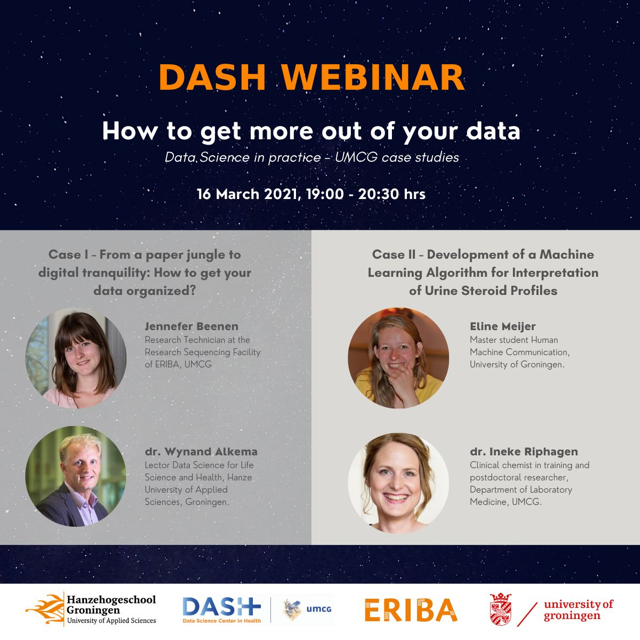 Case I - From a paper jungle to digital tranquility: How to get your data organized?
Paper lab journals are flexible in use. However, this flexibility comes at a cost of data being hard to find, access and analyze because of the many free-format text fields. Our wish is to create a FAIR (Findable, Accessible, Interoperable, and Reusable) formatted database from our current research support activities. This will yield time by automating tasks, e.g. generating workflow overviews, generating invoices for researchers, getting overview of research projects and to do forecasting with respect to our resources (e.g. when will our reagents be out of stock?). In this talk, we will show how we approached this problem in a series of 'Bring Your Own Data' sessions in collaboration with the Hanze University of Applied Sciences.
Jennefer Beenen
Research Technician at the Research Sequencing Facility of the European Research Institute for the Biology of Ageing (ERIBA), UMCG.​
Dr. Wynand Alkema
Lector Data Science for Life Science and Health, Hanze University of Applied Sciences, Groningen.​
Case 2 – Development of a Machine Learning Algorithm for Interpretation of Urine Steroid Profiles
Urine steroid profiling is a useful tool for the diagnosis and monitoring of a wide variety of adrenal diseases, including adrenal adenomas, carcinomas, and disorders of steroid biosynthesis. The interpretation of urine steroid profiles, consisting of multiple steroids and their metabolites, is complex and requires a high degree of clinical and technical knowledge.
Within a routine setting of a special chemistry laboratory, we tried to develop and integrate a machine learning algorithm for the interpretation of urine steroid profiles. In our presentation, we will discuss the process of developing a machine learning model for interpretation of urine steroid profiles as a tool for clinical decision support.
​Eline Meijer
Master student Human Machine Communication, University of Groningen.
​Dr. Ineke Riphagen
Clinical chemist in training and postdoctoral researcher, Department of Laboratory Medicine, UMCG.
​DASH webinar
This webinar is presented by Mark Veldkamp, Product Manager at IT Academy / Hanze University of Applied Sciences, Groningen.
Date: March 16th, from 19.00 – 20.3​0 hrs.
Subject: 'How to get more out of your data'