We want your 'Campus Cat' pictures
This fall, Prof. dr. Doerak, the UG's very own university cat, received his official student card. To celebrate this remarkable event, we want your pictures of Doerak or of any other university, campus, college, university library or academic cat in the world. The best 20 pictures will be displayed in an exhibition at the University Museum in the centre of Groningen. If your picture is selected, you will receive a large high-quality print of your picture after the exhibition has ended.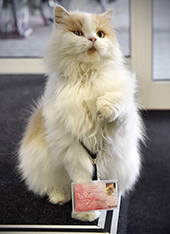 Doerak is not the University of Groningen's first university cat – there have been at least three cats with a similar title. What's more, Groningen is not the only university to have its own cat. Numerous other academic institutions all over the world have their own pets, each loved by their academic community.
We call on all other academic institutions to contribute to our initiative to celebrate campus cats this December. At our University Museum, we will display a small selection of items relating to this theme – from paintings, to models, to real skeletons of cats that were used in classes.
The deadline to participate is Monday 10 December. You can send your picture of Doerak or of any other university cat by emailing doerak@rug.nl. Please include a caption as well as the cat's name, the name of its university or college, and a short description.
Don't forget to post your entry on social media using #universitycat and/or #campuscat
Visitors that bring a printed copy of a picture of any cat will receive 50% off the museum entry fee for the entire period of the exhibition.
| | |
| --- | --- |
| Last modified: | 22 May 2019 2.14 p.m. |