Ubbo Emmius (1547-1625)
First rector of the University of Groningen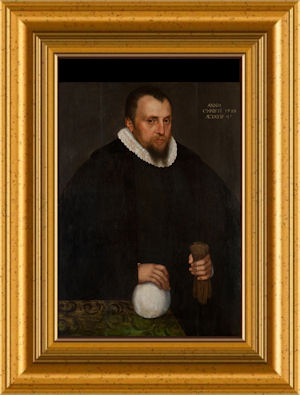 Ubbo Emmius was born in 1547 in the German fishing village of Greetsiel, East Friesland (Germany), where his father was a Lutheran preacher. From the age of 9 to 18, Ubbo went to Latin school, first in Emden and later in Bremen and Norden. He had to end his studies after the death of his father and return home. In 1576 Ubbo went to Geneva to take classes given by Calvin's successor, Theodorus Beza, and was influenced by Calvinist thought.
In 1579 he returned to East Friesland where he was offered the position of rector in the Latin School in Norden. Despite making a great success of the school, the local court, which followed the Lutheran belief, sacked him in 1587 for his Calvinist opinions. Shortly thereafter, in 1588, the Calvinist count Johan offered him the position of rector in the Latin school of Leer.
In Leer Emmius met many important people from Groningen and surroundings who had fled there after the treachery of Rennenberg had delivered the area back into the hands of the Spanish. After the city of Groningen surrendered to the armies of Prince Maurits in 1594, Spanish control was at an end. The protestant refugees could return and they asked their friend Ubbo to become rector of the old St Maarten school, a position he took up in 1595.
Higher education was immediately seen by the provincial government as being a means to forming the intellectual and governmental independence of the new province. It was for this reason that in 1612 a decision was made to found a university and it was up to Emmius to ensure its organization. The Academy was opened in 1614 and Ubbo became professor of Greek and History. He also became the first rector magnificus.

Emmius devoted a large part of his life to writing the history of the Frisian territories. His Rerum Frisicarum historia appeared in 60 volumes from 1592 until 1616. He also made a map of East Friesland (1592) and conducted all the measurements himself. This map formed the basis of all cartographical depictions of this area until the start of the 19th century.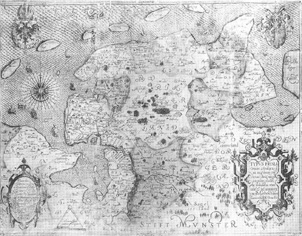 Ubbo Emmius died on 9 December 1625. His gravestone, on display in the entrance hall of the academy building, has the following epitaph: "For the immortal memory of the famous and faithful old man Ubbo Emmius, a Frisian from Greetsiel, first rector of the academy, theologist of the pure doctrine, excellent philologist, perfect historian."
Film en audio interview on Ubbo Emmius
In a short film (in Dutch and English) and an audio interview (in Dutch), made on the occasion of the 400-year anniversary of the University of Groningen, Dr. Zweder von Martels talks about the first rector: Ubbo Emmius.
| | |
| --- | --- |
| Last modified: | 15 March 2023 09.17 a.m. |