Sibrandus Stratingh (1785-1841)
Professor of Chemistry and Technology
Sibrandus Stratingh was born in 1785 in the village of Adorp, where his father was a preacher. He grew up with his uncle, who was a pharmacist in Groningen and went to Latin school there.
He was only 14 when he went to the Academy in Groningen. He took classes in the expectation that he would become a pharmacist like his uncle. He showed an interest in other sciences like chemistry and physics and took classes in them.
In 1801 he founded the 'Society for the stimulation of natural sciences in Groningen' with his friend Theodorus van Swinderen. In 1824 he was made professor of general, applied and pharmaceutical chemistry.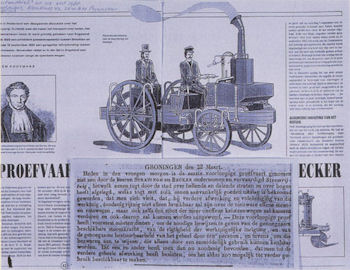 Stratingh carried out valuable work in the field of motion during his professorship. He experimented with a steam-driven vehicle, which he had designed himself, on the streets of Groningen.The Provincial Groninger Courant reported the following, 25 March 1834:
In the early hours of this morning, 22 March, the first test journey was made by messrs Stratingh and Becker on their steam vehicle, which made a journey through the city's undulating and curving streets with a positive result. The designers were so happy with the test that they feel that some small improvements will enable the vehicle to not only travel over new stone and rock roads, but also the bumpier cobbled streets, without problem[…]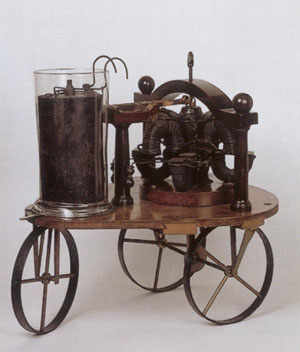 Even King Willem I wanted to be kept fully informed of Stratingh's experiment. Stratingh sent him regular reports on his results and when Willem I spent two days on a royal visit to Groningen in 1837 he spent some time at Stratingh's lab, behind his house on the Ossemarkt 5.
Stratingh worked not just with steam vehicles, but also with electromagnetism. Using the physical principles developed by the Brit Michael Faraday, Stratingh and his instrument maker Becker constructed an electric cart which can be seen as the forerunner of the electric car. Stratingh was unable to continue his research into electromagnetic vehicles, as he died on 15 February 1841. The University had lost an important and learned figure who was well known both nationally and internationally.
| | |
| --- | --- |
| Last modified: | 13 August 2021 3.19 p.m. |