University Cats
'Extended due to popular demand until January 20'
18 December 2018 until 20 January 2019
The University museum is putting on a special exhibition about university cats. These are cats that live close to universities or campuses and spend their days wandering around the buildings and classrooms. The reason for this exhibition? The UG's own university cat, Prof. Doerak, recently received his own UG student card.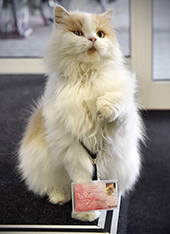 Doerak is not the University of Groningen's first university cat – there have been at least three cats with a similar title. What's more, Groningen is not the only university to have its own cat. Numerous other academic institutions all over the world have their own pets, each loved by their academic community.
After an appeal via social media platforms, photos of academic cats from across the globe were sent in. Photos of Carlton from Canada, Rolf from England and Èr Pàng from China, among others, will hang next to those of Prof. Doerak. Photos were also sent in from Australia, Singapore, Indonesia, Turkey, Germany, Scotland and the United States. The Museum will also focus on university cats by exhibiting various objects about cats in science, in general and related to the history of the University of Groningen.
Visitors that bring a printed copy of a picture of any cat will receive 50% off the museum entry fee for the entire period of the exhibition.
| | |
| --- | --- |
| Last modified: | 13 August 2021 3.27 p.m. |