40 years of Student Introduction Program (KEI) in Groningen, 1968-2008
12 June - 31 August 2008
In 1968 the Student Council of Groningen took the initiative to organise a Student Introduction Program (Kommissie Eerstejaars Introductie - KEI). During one week in August prospective students were being acquainted with the university, students' organisations and the city of Groningen. The program was unique in the Netherlands at the time.
Ever since the KEI has taken place in August. In the 1960's students' unions often confronted the new students with the evils in the world. They organised protest meetings against the Vietnam War and political decisions like the rise of tuition fees. In the 1970's the lack of students' housings became more and more pinching. The Committee of the KEI tried hard to find solutions. Students received information about renting rooms and about 'squatting', i.e. occupying unused buildings without paying any rent. During the introduction period students were accommodated in 'sleep-ins'.
As a result of changes in the system of funding for higher education, students became less focused on politics and more on their studies. Social criticism receded to the background. The introduction period became predominantly an occasion of festivities.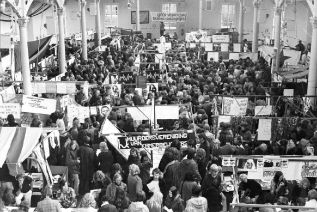 | | |
| --- | --- |
| Last modified: | 13 August 2021 3.27 p.m. |