Informatie voor UB stafmedewerker
Nieuwe secretaresse koppelen aan een promotor
Add secretary to Hora Finita
In Hora Finita, under Gebruikers, Handmatige gebruikers per p-nummer, by p-number, search for the secretary. If the secretary is not known, click New at the bottom of the page. In General, person, enter the p-number. Select the correct person and fill in the role of Secretaresse van promotor under role*. Close at the bottom of the screen with Save.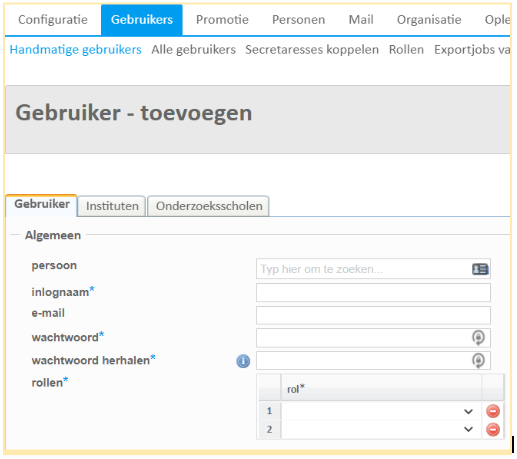 Procedure for linking secretaries
In Hora Finita, under Gebruikers, select Secretaresse koppelen.
Under Secretary choose the p-number of a secretary, and under Secretary of the name, or the p-number of the promotor. If there is no link between a secretary and a promoter yet, choose New at the bottom.
Enter the p-number under Secretary relationship, link the p-number in the secretary* box. And also in the box secretary of*.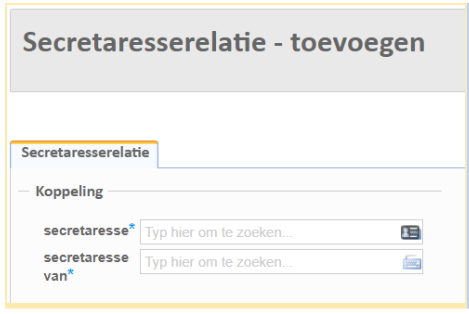 Check the box next to Copy email, receive promoter email, and under authorisation types:
beoordelen van een portfolio activiteit (assessing a portfolio activity)
gesprekken beoordelen (evaluate interviews)
voorstel beoordelingscommissie namens eerste promotor onderhouden (maintain evaluation committee proposal on behalf of first promotor)
Finish by clicking Save.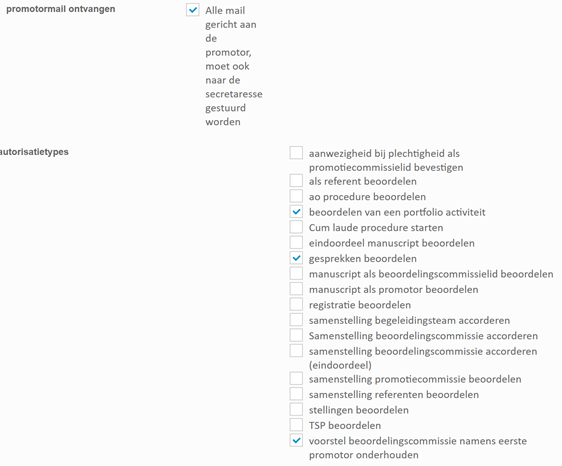 Verwijderen van rollen in Hora Finita
Zoek persoon op in tab gebruikers, alle gebruiker.
Voor het verwijderen van enkele rol in HF: verwijder de hele gebruiker uit HF, onderaan in het scherm Gebruiker - aanpassen.
Voor het verwijderen van één van de rollen van een gebruiker: klik op het verboden in te rijden-/eenrichtingbord-icoontje. (case 76940)
| | |
| --- | --- |
| Last modified: | 03 May 2023 08.36 a.m. |