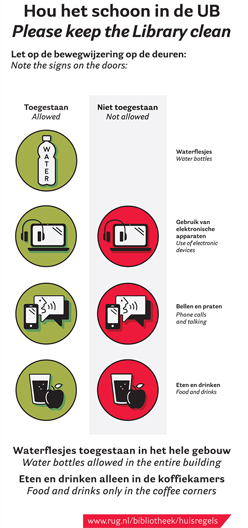 In de Universiteitsbibliotheek gelden de volgende huisregels:
Waterflesjes toegestaan in het hele gebouw
Eten en drinken alleen in de koffiekamers
Verder zijn er verschillende zones in het gebouw: studiezones en koffiekamers. De pictogrammen op de deuren van de verschillende zones geven aan wat wel en niet is toegestaan.
Roken
De gehele Rijksuniversiteit Groningen is rookvrij! Dat betekent dat er in geen enkel gebouw gerookt mag worden - dus ook niet op de dakterrassen van UB Binnenstad!
Verder is ook het gebied rondom de ingang van een RUG-gebouw een rookvrije zone; let op de bordjes en tegeltjes in de bestrating.
Opmerkingen, klachten?
Meld onregelmatigheden, overlast, afval etc.
mondeling bij de Receptie of Servicebalie,
via telefoon: (050) 363 5020,
via e-mail:

bibliotheek rug.nl

of via Twitter: @Bibliothecaris
Bekijk onze Safety Instruction video!
| | |
| --- | --- |
| Laatst gewijzigd: | 07 januari 2020 09:39 |