Exhibition: Professor Bert Röling - jurist, polemologist and activist
| | |
| --- | --- |
| From: | Th 09-11-2023 |
| Until: | Fr 05-01-2024 |
| Where: | Röling Building (Law Faculty), central hall |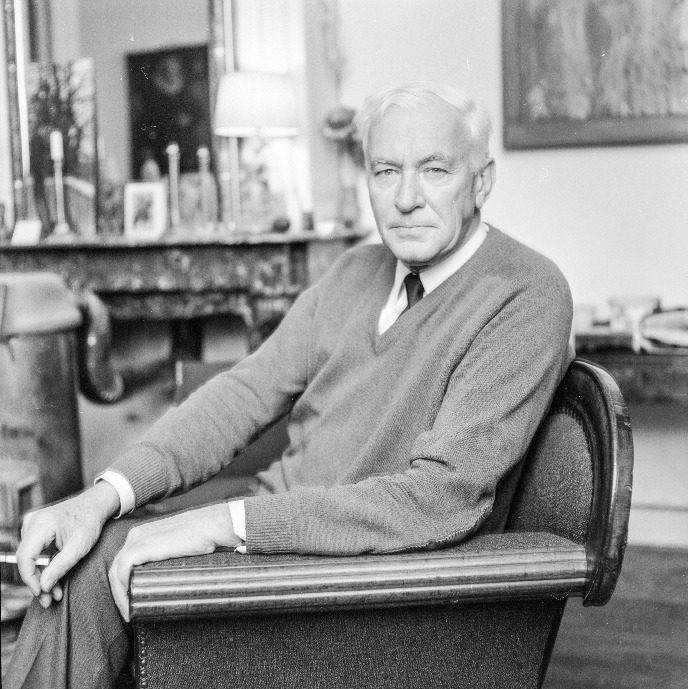 The opening of the Röling Building (the Faculty of Law) prompted the University Library (UB) to delve into the archives of Professor Bert Röling and the Polemological Institute. This led to some extraordinary discoveries. A small selection from the large quantity of material is on display in the central hall of the Röling Building until 5 January.
On the shelves of the Special Collections Department of the UB, 75 light blue archive boxes, neatly numbered, are lined up in the back right-hand corner. Anyone opening them enters the world of Professor Bert Röling and is soon impressed by his enthusiasm, idealism and work ethic.
The boxes include stacks of lecture notes on Polemology and International Law, in that distinctive, almost undecipherable handwriting, racing across the paper in sleek lines, as if he never allowed himself time to write out letters neatly; typed reports of meetings with many corrections and additions in the margin; preparations for lectures on the United Nations, New Guinea, Pugwash, ethnic minorities, environmental law, the peace movement; newspaper cuttings, letters, scraps, manuscripts, preparations for revisions, contributions to symposia; the scripts and photo reports of a television course on Polemology and a series of books, some bearing his name and a year on the title page.
Most of Röling's library, presumably from the former Polemological Institute, is in the depot of the UB on the Zernike campus. The dating of a number of books on the title page (Tokyo, Christmas 1947 is in a beautiful copy of Indische overpeinzingen) shows that his library from Tokyo has also found a home at the UB.
Röling's desk at the Imperial Hotel in Tokyo must also have held court records from the Tokyo Trial. The UB is in possession of the documents, bundled in cardboard folders, tied together with strings and here and there annotated by Röling. He would have been the only judge who had read all 52,000 pages.
His well-known 'dissenting opinion' is on display in one of the showcases, along with photographs and other materials from the UB's holdings. The presentation includes a small selection in three parts: Judge in Tokyo, Founder of the Polemological Institute and International peace scholar.