Nieuwe multidisciplinaire master Business Administration: Health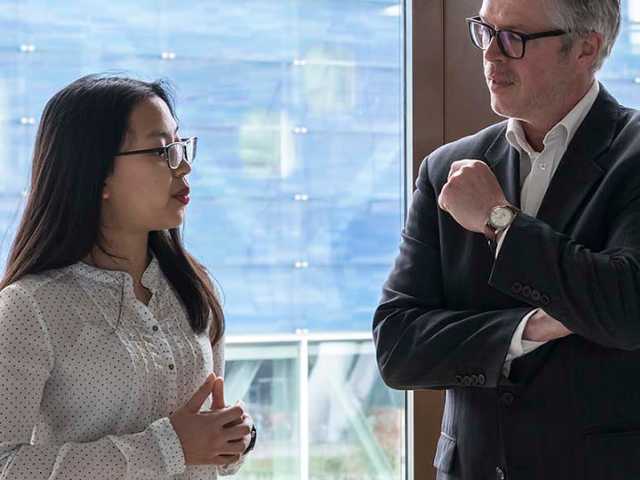 Hoe kan gezondheidszorg gezondheidsuitkomsten en patiëntervaringen verbeteren, terwijl de kosten beperkt blijven en iedereen gegarandeerd toegang heeft? Dit vraagstuk staat centraal bij de nieuwe MSc Business Administration: Health, die vanaf september 2018 van start gaat bij de Rijksuniversiteit Groningen (RUG). Lees in dit nieuwsbericht meer over wat deze master uniek maakt.


Vraag naar multidisciplinair geschoolde professionals
Hoogwaardige gezondheidszorg is een essentiële basis voor individueel welzijn en een goed functionerende samenleving. Gezondheidszorgsystemen vereisen onderhoud, verbetering en innovatie op alle niveaus. Beleidsmakers en managers in en rond de gezondheidszorg moeten omgaan met maatschappelijke uitdagingen en technologische kansen inzetten zonder de continue zorgverlening te verstoren. Uitdagingen in de gezondheidszorg, zoals de vergrijzende samenleving, vereisen een strategische visie van het management en gecoördineerde inspanningen binnen zorgorganisaties en samen met andere spelers in dit dynamische veld. Dit creëert een vraag naar multidisciplinaire geschoolde professionals met zowel analytische als managementvaardigheden en een duidelijk inzicht in de sociaal-economische omgeving.
Het verschil maken in de gezondheidszorg
Met de multidisciplinaire MSc Business Administration: Health ontwikkel je de competenties die je nodig hebt om een verschil te kunnen maken in de veelzijdige wereld van ziekte en gezondheid; zorg en preventie. Het cursusaanbod combineert zorgmanagement en gezondheidseconomie, waarbij je de keuze hebt om een meer bestuurlijke of een meer economische focus te kiezen. Bovendien leer je om de posities van cliënten, clinici, zorgverleners en verzekeraars daarbij in acht te nemen.
Iets voor jou?
Benieuwd of de MSc Business Administration: Health iets voor jou is? Bekijk de website van de master en lees meer over o.a. het programma en de toelatingseisen voor deze multidisciplinaire master.