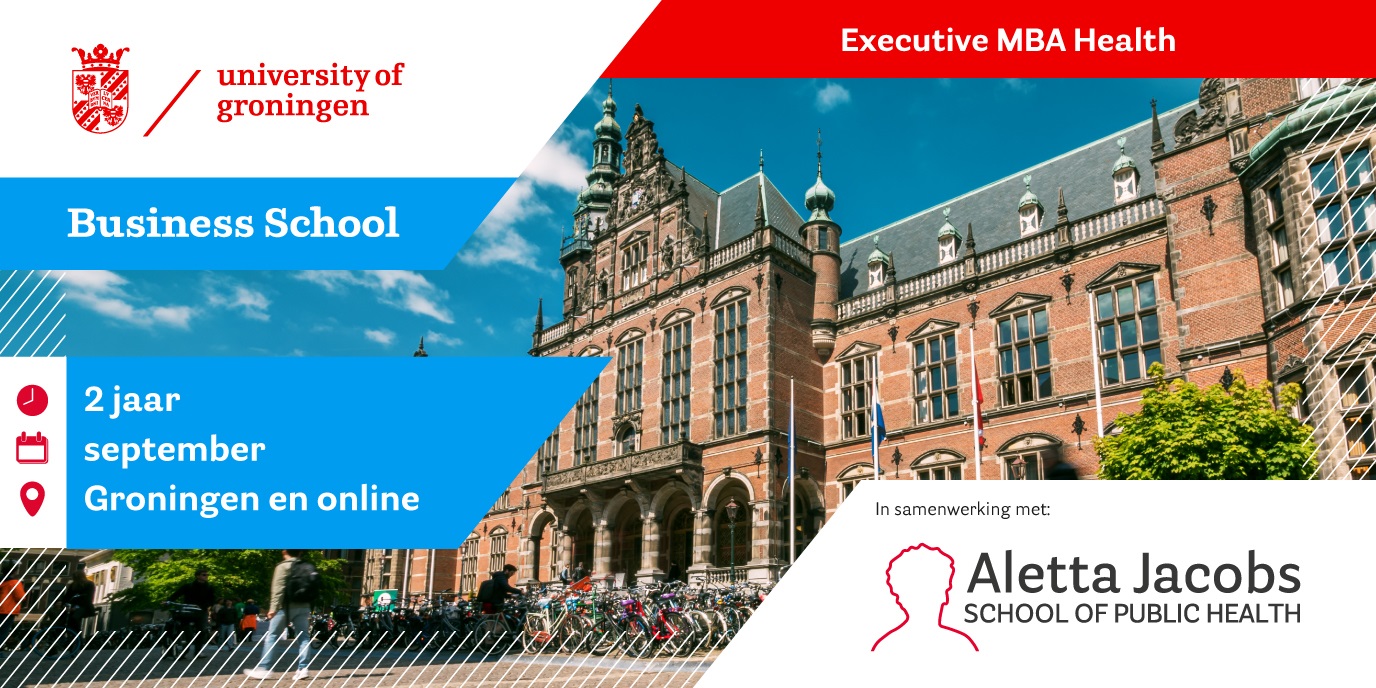 Meebouwen aan de toekomst van het gezondheidslandschap

In een gezondheidslandschap dat continu verandert, zijn krachtige leiders nodig die nieuwe uitdagingen de baas zijn, inspelen op de laatste ontwikkelingen en regie hebben op de toekomst. Bent u een ambitieuze professional of manager in zorg- en welzijn, die zich wil ontplooien op leiderschapsgebied en de organisatie vooruit wil helpen? En wilt u een sterke visie op het gezondheidslandschap vormen, met een bedrijfskundige en economische onderbouwing? Dan is de Groningse Executive MBA Health voor u!
Duur: 2 jaar (parttime)
Locatie: Groningen, online, internationale studiereis
Start: september 2021
Voertaal: Nederlands en Engels
Kosten: € 34.950 vrijgesteld van BTW
Titel: MSc, MBA University of Groningen
In de Executive Master Business Administration (MBA) Health doet u kennis op van financiën, innovatie, het politieke speelveld, zorgsystemen, beleid en verandermanagement op het gebied van zorg- en welzijn. De opleiding heeft een praktisch relevante insteek op een sterke wetenschappelijke basis en benadert de complexe vraagstukken vanuit een interdisciplinaire invalshoek. U werkt bovendien met een coach aan uw leiderschapsvaardigheden om zo uw positie binnen de organisatie te versterken.
Ontwikkel in 2 jaar een strategische visie op gezondheidsthema's en behaal een waardevol diploma.
| | |
| --- | --- |
| Laatst gewijzigd: | 22 februari 2021 12:29 |