Study Programme
The Liberal Arts and Sciences programme is taught entirely in English and enables you to design a curriculum that suits your individual interests and ambitions. You will be taught in small classes where the education is highly interactive with a strong focus on collaborative, project-based learning. Throughout the degree you will work in interdisciplinary teams on a series of projects that will enable you to learn how to apply a creative approach in finding solutions for complex global challenges. The programme prepares you for a further study and career in a wide variety of MSc and MA programmes and professional fields. These include MSc and MA programmes in (international) business, law, international relations, media, arts, psychology and (life) sciences and careers in (for instance) research business, international policy-making and journalism.
In the first year of your studies, you gradually choose your major out of a broad portfolio of courses in respectively Sciences, Social Sciences or Humanities. There are courses available on the topics of psychology, health and life sciences, physics, philosophy, political science, (international) business, law, economics and more. During the second and third year of the programme, you will deepen your understanding in the field(s) of your main interest by following a major specialisation in for instance Physics; Health and Life Sciences; Brain, Behaviour and Culture; Philosophy, Politics and Economics; International Law; International Business; Media; Arts or Philosophy. You also have the option to follow a 'free major', meaning you can select any combination from the wide range of courses on offer. Alongside your academic courses and projects, you will follow courses in quantitative and qualitative research methods, logic, mathematics and philosophy of science. In the third year, you have the option to study courses abroad for a full semester before completing your Capstone Project (thesis).
For examples of elective modules and more about the first year programme, go here.
For our international students who are interested in learning Dutch, the University Language Centre provides free Dutch classes up to CEFR Level B1.
Credits / ECTS
In the first year you'll follow a core programme of 30 credits. The remainder of the programme is up to you to decide. You just need to make sure you attain 20 credits in one of the three major disciplines: Sciences, Social Sciences and Humanities, and 10 credits outside your major field.
Core programme (30 credits)
Your choice (30 credits)

The core programme consists of:

Global Challenges
Research and Methodology
Integrative projects and academic skills

Additionally, you may choose from a variety of modules in the following fields:

Sciences
Social Sciences
Humanities
In your second year, you'll have the chance to study one of our majors in one of the three disciplines (30 credits), an integrative project (15 credits), and a Research and Methodology programme (15 credits).
In your third and final year, you'll gain some international experience, which could include study abroad (30 credits) or a University of Groningen minor. On top of this, you will also study your major courses of choice (15 credits), and complete a Capstone Project or thesis (15 credits).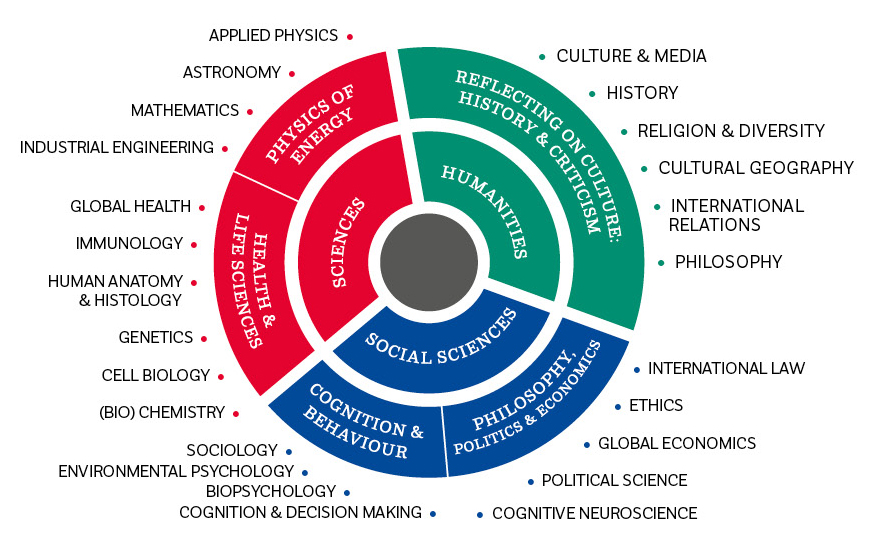 You can also view the presentation here!
| | |
| --- | --- |
| Laatst gewijzigd: | 17 maart 2017 19:18 |