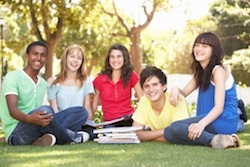 Apart from studying abroad for a semester, there are also options to study abroad during a summer school programme at one of our partner universities. You can still earn credits – granted that the board of examiners gives you permission for taking your courses of choice at the summer school –, learn new languages, and you will become part of an international community.
Summer school programmes vary between three to eight weeks and the content of these programmes can vary year by year.
Be aware of the following:
You need to arrange and pay everything yourself
You will not qualify for any UCG or UG scholarships (some summer schools offer their own scholarships, and you can always apply for those).
You will need to pay the summer programme fee to the guest university and you will not be considered a regular exchange student.
Summer school credits do not count as part of your regular 180 ECTS but are always optional and granted in adition to your regular credits.
Summer school programmes are extracurricular, but you can - with permission from the board of examiners - try and transfer the credits into your degree programme as extra courses.
---
Selection of Summer School Programmes Offered by Universities
Have a look at the following list of summer school programmes offered by our partner universities. Do note that this list is by no means exhaustive and you can find more summer schools on your own accord.
| | |
| --- | --- |
| Laatst gewijzigd: | 11 januari 2017 09:26 |