Zernike Ecology Project
The Zernike Ecology project aims to bring together ecological research, education, outreach and biodiversity conservation at the Zernike campus. These three aims are interconnected and are meant to cross-fertilise: students are stimulated to participate in research; changes in the campus landscape will be followed in monitoring studies, and developments will be communicated broadly. We aim to make Zernike campus an attractive, inspiring and biodiverse environment.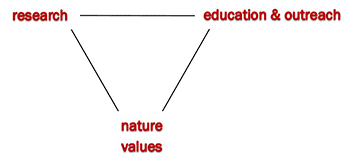 Education
ZEP provides opportunities for students to engage in field biology and develop relevant skills. In addition to student involvement in ongoing research projects (see below), campus-based projects are part of several research courses: Animal Ecology Research, Community Ecology Research, Behavioural Biology Research.
Research
Several research projects are being developed under ZEP. Students at all levels can participate in these projects; both inside and outside the regular curriculum. Examples of research projects include

Nature Values
Zernike campus is surrounded by nature reserves that are part of the "Stedelijke Ecologische Structuur" (SES), a network of natural areas in Groningen city. In line with the university's ambition to be a 'sustainable university', we aim to incorporate ecological values in the ongoing development of the campus.
Relevant project reports:
Ecologie Zernike Campus - De toekomst voor de natuur op het Zernikecomplex (Moniek Gommers, 2015: MSc report)

| | |
| --- | --- |
| Laatst gewijzigd: | 22 mei 2017 16:16 |