The world's first electric car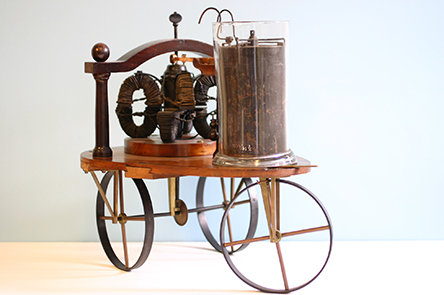 This very first electrical 'car' in the world weighs no more than three kilograms. It can drive for twenty minutes when the battery is fully charged and carry 1.5 kilos. No small feat for a design from 1835.
The car was designed by professor of chemistry and technology Sibrandus Stratingh. This very practical-minded scientist and entrepreneur had attracted attention before with his inventions. In 1834 he toured the streets of Groningen with a steam car he had built together with his assistant Christiaan Becker.
Even King William I heard about his experiments. He awarded Stratingh with a visit to his oratory and gave Becker a scholarship of 600 guilders.
However, Stratingh decided that the future was not in steam, but in a new phenomenon: electricity. He had already familiarised himself with the work of Moritz von Jacobi, an engineer from Saint Petersburg, who researched electromotors. Stratingh saw the possibilities, but also the flaws in his designs.
Jacobi's electromotor had straight magnets. Stratingh realized he could generate double the amount of energy by bending them. Doing so, he succeeded in making the first driving electrical car in the world.
Stratingh might have invented so many more great things. He even drove a little electrical boat in the canal near his house.
Sadly, the research into electromagnetic power in Groningen came to a halt when he died unexpectedly in 1841. He was only 56 years old.
The car on display is an improved design from the car he made in 1835. It was sold to the local technical school in 1864, but later found its way back to the university.
| | |
| --- | --- |
| Last modified: | 08 October 2021 3.09 p.m. |