Narrowed pelvis of a female from Warffum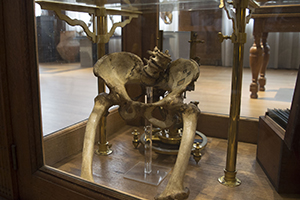 This is a 'generally narrowed flat rachitic pelvis' from 1820 belonging to a single woman that lived in the poorhouse in the Groningen village of Warffum. She was already in her thirties and seriously deformed by rickets – a deformation of the skeleton due to a shortage of Vitamin D and sunlight.
She had been in labour for hours, when a preacher, vicar Abbring, was called to attend to her. He attempted a forceps delivery, but failed miserably.
In the end, there was no other solution than to take the woman on a cart to the village of Middelstum, ten kilometres away, where the young doctor Emo Wichers had his practice. He put her on the kitchen table and decided to carry out a Caesarean section. All this happened without anaesthesia and the area was far from sterile. Anaesthesia didn't become in use until 1846 and the importance of hygiene was still unknown.
It will come as no surprise that the story didn't end well. The child was stillborn and the mother died of peritonitis a few days later.
She had been doomed from the moment the preacher had started treating her in spite of his lack of medical knowledge. He almost certainly damaged and infected the peritoneum. He has later been reprimanded for his behaviour, but for this woman it was too late.
Her pelvis ended up in the medical collection of the Academic Hospital of Groningen as a teaching tool.
| | |
| --- | --- |
| Last modified: | 08 October 2021 3.09 p.m. |