Rucksack antenna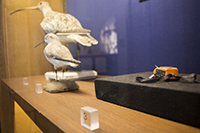 This little orange apparatus is transmitter in the shape of a rucksack. It has been used by migratory bird professor Theunis Piersma. He attached it to the backs of godwits and avocets to track their migratory behaviour.
The distances they fly are spectacular. Take the godwit. It rushes from the Dutch province of Fryslân to Senegal non-stop in two days. Or the sanderling. This bird, which weighs no more than a hundred grams, covers the 9000 kilometres from Namibia, where it spends the winter, in a week.
Knowing how these birds behave and which route they take on their lengthy journey is essential. Ninety percent of all godwits brood in the Netherlands, but intensive dairy farming has decimated the population over the last few decades. Other migratory birds, like the great knot, are endangered because of the draining of the Yellow Sea in China. They forage there on their way to Australia.
The developments in migratory bird research are happening fast. This antenna from 2005 was strapped onto the bird's back. In 2009 trackers weighing only 26 grams were implanted in the belly of the animal. Nowaday 'waist bags' of 5 grams are the rule. In 2016 it was possible for the public to follow a live-feed of Paula the red knot flying from Northern Canada to the Dutch island of Terschelling with a transmitter weighing only 2 grams.
| | |
| --- | --- |
| Last modified: | 08 October 2021 3.07 p.m. |