Heymans' weights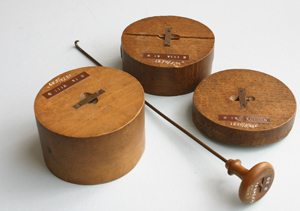 Try and lift these wooden weights with the fishing rod next to it. The first time with a blindfold on. The second with your eyes wide open. Which one is heaviest?
When you see the discs during the test, you'll probably find that the biggest is also the heaviest. Wearing a blindfold though, you will notice that they have exactly the same weight. In short: observation influences your experience.
The discs are a part of the Heymans collection, which consists of dozens of instruments that Gerard Heymans, the founding father of experimental psychology in the Netherlands, used for his research in Groningen from 1892 onwards.
It was then that Heymans founded the very first psychological laboratory in the Netherlands, in his own home at the Stationsstraat. A lack of test subjects made him experiment on his wife Anthonia at first. She alone was good for over 10.000 measurements.
Anthonia also assisted in his research on the Zölllner illusion, also on display. The subject has to manipulate a knob to get the three lines to run exactly parrallel. That's harder then you might think, because of the herringbone in the middle.
His studies into psychological inhibition with the rotation device for color discs became famous too. Dependent on the adjustment, one of the colours will become invisible. Heymans compared this phenomenon of colours being suppressed with an electrical resistance.
From 1909 onwards, Heymans had a laboratory in the Academy Building. There he did experiments on visual illusions, psychological inhibition and even telepathy.
| | |
| --- | --- |
| Last modified: | 08 October 2021 3.09 p.m. |