Astigmometer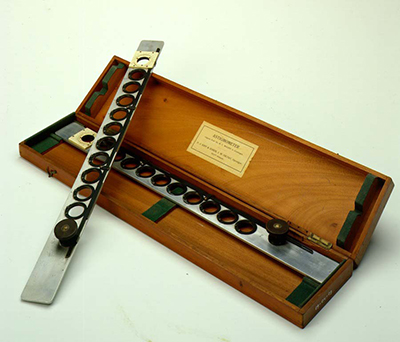 Before 1850, the workings of the human eye were a mystery. Nobody knew how it was able to focus or how to calculate the curve of the cornea. Making glasses was guesswork.
The famous German ophthalmologist Helmholtz did develop a precursor of the device opticians use nowadays, but it was extremely complicated and could only be used in a scientific laboratory.
That all changed with oculist M.E. Mulder from Groningen. In 1905, he developed this astigmometer, which allowed doctors to simply measure vision impairment in their office.
Every slat has eleven fixed lenses. On top of those are flexible lenses which the doctor could shift or turn. The exact curve of the cornea could then be read off the scale. For patients, the fact that Mulder used reasonably big lenses came in handy. It was easier to assess the result.
Mulder was a passionate scientist, a man who cared deeply for his patients. He initiated the first Institute for Necessitous Eye-Patients in Groningen. Poor patients were treated for free there. Others could buy a ticket for one guilder, which covered treatment for three months.
| | |
| --- | --- |
| Last modified: | 08 October 2021 4.35 p.m. |