Anatomical model by Auzoux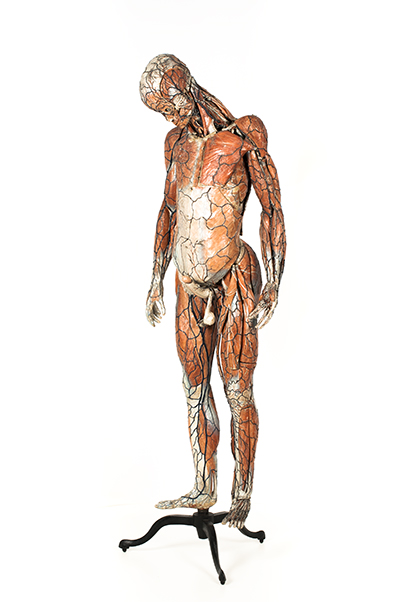 It's the year 1844 and anatomist August Sebastian is addressing the board of the University of Groningen with gusto. He wants to acquire an 'artificial cadaver' from the famous Louis Azoux. This Frenchman has been making educational anatomical models out of papier-mâché since 1828. Sebastian knows that 'there has been much ado in papers and journals these last three years about Mr, Auzoux's artificial cadavers'.
That is not surprising. A lack of real bodies had made anatomical education dependent on drawings and the odd public dissection. And although wax was discovered to lend itself well to the making of models, this material turned out to be vulnerable. It easily becomes distorted when used intensively or when it is exposed to high temperatures.
Papier-mâché didn't have these drawbacks. It was sturdy, sustainable and cheap. It could even be used to make jointed models. And Auzoux had mastered the art of working with it to perfection.
Sebastian succeeded in convincing the university board. They made 1700 guilders available to him to obtain the model, which arrived in June 1844. Shortly thereafter, Sebastian organised public lectures with this artificial cadaver, which consists of 130 separate parts. Together they show 1,700 different parts of the body.
Anatomical models made from papier-mâché went out of fashion in the twentieth century, when other methods and materials entered the scene. Sebastian's famous model – the oldest in existence in the Netherlands – has been on display in the University Museum ever since.
| | |
| --- | --- |
| Last modified: | 08 October 2021 4.35 p.m. |