University Library City Centre temporarily accessible for University of Groningen students and staff only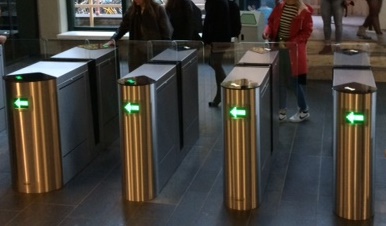 The University Library City Centre counted more than 2 million visitors in 2018. To cope with the ever increasing crowds in the library, four two-week periods have been scheduled in which the University Library City Centre is only accessible for students and staff of the University of Groningen (and other holders of a library card). Hanze students will have no access to the library in these periods.
The first period these measures apply, will be
Saturday 19 October through Sunday 3 November 2019
And consequently:
Saturday 11 through Sunday 26 January
Saturday 21 March through Sunday 5 April
Saturday 6 through Sunday 21 June
Policy
In the above-mentioned period, you can only enter the library by presenting your University card while entering the building.
Entering the library, always have your University card ready!
No University card means no entry!
When in doubt, our staff may ask for an ID.
Exceptions
In some cases, non-University of Groningen students or staff can get access to the library:
Visitors in possession of a valid library card;
Visitors wanting to consult a work from our Special Collections department;
and other persons who want to visit the library with a valid reason. For instance: HOVO, DNPP, Centre for Russian Studies...
If you want to be sure you won't be denied access to the library, please inform us of your visit in advance. Call our Reception desk at 050 - 363 5000 to inform our staff of your arrival.
Extra work places for UG students and staff
The study zones in the Harmonie building are open more often and longer hours;
The University Library Zernike will be open longer hours:
The work places in the plaza of the Duisenberg Building will also be open in these weekends.
The work places in the GMW Building will also be open in these weekends.
Alternatives for Hanze students
The Hanze University has created extra 'Hanze Work Places' for this period in the city centre:
opening hours of the Forumbibliotheek (Openbare Bibliotheek, Oude Boteringestraat 18) have been extended; here, 200 extra places are available;
moreover, this library has an excellent bicycle park!
| | |
| --- | --- |
| Last modified: | 13 September 2019 3.31 p.m. |