Course Health Economics and Healthcare Management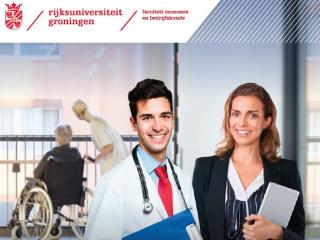 Please note that the course is in Dutch, therefore the information about the course is provided in Dutch
De 10-daagse leergang Health Economics and Healthcare Management start op 6 oktober 2016 en is speciaal ontwikkeld door expertisecentrum Healthwise en University of Groningen Business School (Rijksuniversiteit Groningen) voor leidinggevenden en professionals die werkzaam zijn in de zorgsector in Noord-Nederland.
Door deze leergang krijg je up-to-date kennis van de economische en bedrijfskundige aspecten van de zorg op academisch niveau. Daarnaast werk je door persoonlijke coaching aan de verdere ontwikkeling van je leiderschapsvaardigheden. De opgedane kennis en nieuwe inzichten zijn direct toepasbaar in de praktijk.
Vooraanstaande experts van de Faculteit Economie en Bedrijfskunde en het UMCG zijn verbonden aan deze leergang van de University of Groningen Business School.

Doelgroep
Je bent leidinggevende, manager of professional en werkzaam in de zorg- en welzijnssector. Je hebt behoefte aan theoretische verdieping op het gebied van economie en bedrijfskunde gerelateerd aan zorg. Daarnaast wil je je leiderschapsvaardigheden verder ontwikkelen.

Vooropleiding
Je bent afgestudeerd op minimaal HBO-niveau of beschikt over HBO werk -en denkniveau. Er zijn geen specifieke toelatingseisen. Beheersing van de Engelse taal is gewenst, omdat een deel van de syllabus in het Engels is.

Certificaat en accreditatie
Bij het succesvol afronden van de leergang ontvang je een officieel opleidingscertificaat van de University of Groningen Business School. Verder is de leergang geaccrediteerd voor:
- ABAN, 40 accreditatiepunten
- Verpleegkundig Specialisten Register, 50 accreditatiepunten
- Kwaliteitsregister V&V, 70 accreditatiepunten
Aanmelding en kosten
Het inschrijfformulier kun je downloaden op onze website. De kosten voor de 10-daagse leergang zijn € 6.655. Als er meer deelnemers zijn van dezelfde organisatie dan passen we een kortingsregeling toe. Je kunt deze opleiding ook in termijnen betalen. Hiervoor kun je contact opnemen met de coördinator van de leergang.
De kosten zijn inclusief een speciaal voor de leergang samengestelde syllabus en locatie- en cateringkosten. De catering omvat onbeperkt koffie, thee en ijswater en een uitgebreide lunch. Het diner op 6 oktober is hierbij ook inbegrepen.

Locatie en parkeren
De leergang wordt gegeven in 'Het Kasteel', Melkweg 1 in Groningen. Parkeren kan in de nabij gelegen parkeergarage Westerhaven.

Meer informatie en contact
De 10-daagse Leergang vindt plaats van 6 oktober 2016 tot en met 10 maart 2017. Meer nieuws inclusief de data van de leergang kun je vinden op de website.
Je kunt bij vragen over de leergang Health Economics and Healthcare Management ook contact opnemen met een van onze coördinatoren, dr. Gerdien Regts of dr. Marije Bosch (healthwise rug.nl).