Application Process
Great that you have decided to apply for the BA/BSc Liberal Arts and Sciences, offered by University College Groningen! Please follow the instructions about our application procedure below. Our application deadline is May 1st 2017.
1) Studielink application
Studielink is used in the Netherlands to enrol students in higher education programmes. Both the University and the Dutch government obtain their information from Studielink, so it is vital that your personal information is accurate and always up to date.
How to use it:
Studielink asks for your background information, your previous education, the subjects that you've taken, your grades, and the programmes you want to enrol in. Studielink provides you with a to-do-list with actions you need to complete to finish your application. Regularly check Studielink for new or unfinished items on your to-do list and make sure you read any messages you receive.
Please note:
The enrolment in Studielink is in addition to the UCG online application;

UCG is not a draw programme, therefore you are able to enrol in other programmes as a back up option

as well;

If Studielink tells you that: "The educational institution has yet to determine whether your previous education level is sufficient," this will only be ticked after you accept your place and you send us a certified copy of your diploma;

UCG is a residential programme and living in our student housing is mandatory during the first year of your studies. There are no exceptions.
How to login:
To get to the Studielink site please click here. Depending on your nationality there are different procedures to go through:
Dutch students
International students

Since you are not registered in the Netherlands you do not have a digital signature (DigiD) yet. Please use the option "Apply for username and password" instead. General information about how you will use studielink can be found here.
If you encounter problems while creating an account, a step by step guide outlining how to create a studielink account can be found here.
Studied in the Netherlands before?
If you are an international student that has lived and studied in the Netherlands before, you may already have a DigiD. In this case, please follow the information provided for Dutch students.
Enrolment via Studielink
Once you've entered Studielink, and you are ready to enrol, select the following options: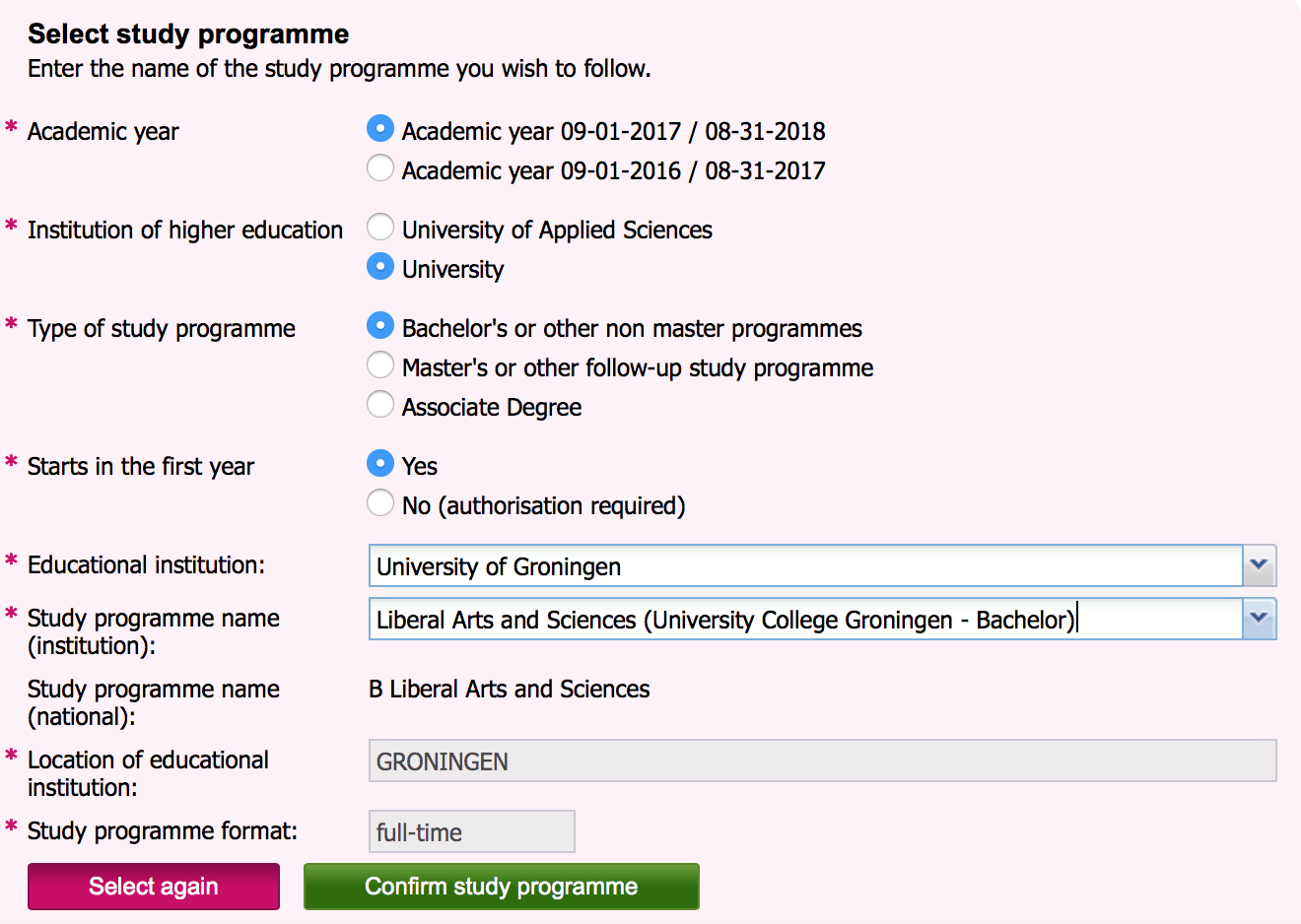 2) Online Application System
After you have applied for our Liberal Arts and Sciences programme via Studielink, you will get an invitation (+ link & password) to the University of Groningen Online Application System (OAS) through email. OAS is the University of Groningen's enrolment software where we will collect all your data, documents and motivation for application to the programme. For a step-by-step guide on how to complete the OAS registration please click here.
Required application documents
Transcript of grades of study year 2015 - 2016
Enrolment statement from the secondary school including the expected graduation date
For A-level and IB applicants: predicted final grades transcript
Or (instead of all the above points): Secondary school diploma + grades list
Proof of English proficiency
CV
Letter of motivation OR YouTube URL to your video of motivation in a Word document – you will be informed about the content of your video once you start the application document. There is no minimum or maximum in terms of amount of words or how long the video should be. You should consider this your chance to show us why you are the UCG student that we are looking for!
Copy of valid passport or ID (ID for EEA students only).

Please note:
You are already able to already submit your application in OAS, before obtaining your diploma and taking your final exams. In this case, please upload a transcript with grades obtained so far. If you are planning on taking an additional English proficiency test or mathematics test to meet our minimum requirements, please state in OAS which additional test you will be taking and you can send us the results via e-mail later. This means that you can already be conditionally offered a place at UCG.
Would you like to be guided through our Online Application System (OAS) during an online help session on Skype ? We offer these online help sessions on a monthly basis. Please sign up here if you are interested.
3) Board of Admission
Once you have submitted your full application in OAS, the Board of Admission will review your application. You will receive the decision letter from the Board of Admissions within two weeks after completing your application.
4) Offer Holder Programme
Once you have been offered a place at University College Groningen, the final decision is up to you! To help you with making the decision and giving you a taste of what it is like to be a student at UCG, we have an entire programme ready for you until the start of the academic year in September 2017. Ranging from livestreams during events and guest lectures at University College Groningen, to webinars and weekly Q&A sessions. To get to know University College Groningen and your future classmates we also organise Offer Holder Days. During this day you will receive a tour through the UCG campus, our student housing and the city of Groningen. We will provide a guest lecture, and you will have lunch with teachers, students, UCG's student Association Caerus. This will be the perfect opportunity to experience studying at University College Groningen!
5) Accepting Your Offer
When you receive your (conditional) offer, you have two weeks to accept this offer. Please do note that we work on a first come, first serve basis so we advise you to accept your offer as soon as possible to have a guaranteed place at University College Groningen. For the academic year of 2017/2018 we have 120 places available. You can accept your offer by returning your signed Confirmation of Participation document, which is attached to the official acceptance letter that you received via e-mail from newstudents.ucg@rug.nl. Once you have accepted your offer and you have met the conditions linked to your offer, you are required to send certified duplicates of your diploma and transcript to the admissions office.
Do you want to make sure you don't miss any deadlines? Sign up for our monthly newsletter!
| | |
| --- | --- |
| Laatst gewijzigd: | 15 maart 2017 14:09 |