Health Sciences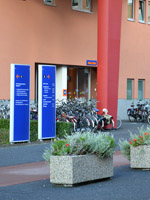 Healthcare is more than just making sick people better. Preventing disease and dealing with the consequences of illness are also important when it comes to staying healthy and ageing as healthily as possible. That is the philosophy of the Department of Health Sciences.
Our mission is to promote health and participation opportunities for people during their entire life course and to optimize healthcare in close collaboration with professional practice. Core issues include preventing disease, dealing with the consequences of illness and promoting the participation of ill people in society and work settings.
We aim to realize these issues by carrying out our core activities of scientific research, academic and post-academic teaching and patient care. More information can be found in the departmental sections.
High standard
The department aims to fulfil its duties to a high standard – and successfully so. Both the research and the teaching have recently been assessed as very good to excellent. These achievements are contributing to the general quality of the University Medical Center Groningen and the University of Groningen. The University is climbing the international ranking lists and is currently one of the best universities worldwide. More information about ranking lists can be found on the University of Groningen website.
Organization
The Department of Health Sciences consists of the Community and Occupational Medicine and Health Psychology Sections as well as the unit of Applied Healthcare Research and the Science Shop . We have about 110 staff members, most of whom work as researchers. More information about the organization of the department can be found in the organizational chart [PDF] .
Culture
The culture within the department can be characterized as professional, productive and performance-oriented – we focus on the quality of research, teaching, patient care and meaningful results for society on the basis of involvement, ambition and creativity. We do all this is a friendly atmosphere where colleagues have respects for each other's professional freedom and contributions.
| | |
| --- | --- |
| Last modified: | March 05, 2014 16:16 |